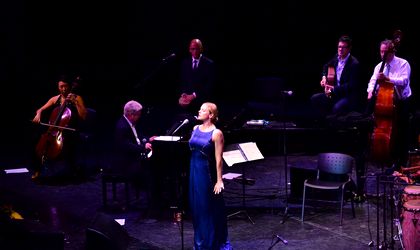 Hurts
October 11, Romexpo, ticket prices: RON 120
The English band Hurts return to Romania for their third visit, presenting their latest album, Exile. Hurts are a synthpop duo from Manchester, composed of vocalist Theo Hutchcraft and synth and guitar player Adam Anderson, who began performing in this line-up in 2009. The band collaborated with Kylie Minogue on their debut album, on a song entitled Devotion.
Pink Martini (in picture)
October 15, Sala Palatului, ticket prices: RON 110-240
The "little orchestra" from Portland makes its fifth stop in Bucharest, presenting its amazing mix of Cuban Jazz, chamber music, Brazilian marches and film soundtracks to the Romanian public. The 12-piece orchestra boasts a multilingual repertoire that takes listeners from the metropolis to the ports of Istanbul and Brazilian beaches. The band performs live songs in ten different languages: English, Spanish, French, Hebrew, Japanese, Russian, Italian, Turkish, Croatian and Romanian. Thomas Lauderdale (piano), Storm Large (vocalist), Philip Baker (drummer), Gavin Bondy (trumpet), Jeffrey Budin (trombone), Nicholas Crosa (violin), Brian Davis (percussion), Daniel Faehnle (guitar), Anthony Jones (drums), Timothy Nishimoto (percussion & backing vocal) and Derek Rieth (percussion) perform a cover of the Romanian song by Anton Pann, Pana cand nu te iubeam (Until I don't love you), in testament to Maria Tanase, the great Romanian folk singer who would have turned 100 years old last week.
Belinda Carlisle
October 16, Sala Palatului, ticket prices: RON 75-300
Heaven is a Place on Earth will get its debut live airing in Bucharest, when 80s legend Belinda Carlisle performs her first Romanian show. The American singer, who gained worldwide fame as the lead vocalist of successful all-female band the Go-Go's, will entertain the public with her smash hits La Luna, Circle in the Sand, Mad About You, I Get Weak, Summer Rain and Leave a Light On.
Julio Iglesias
October 24, October 26, Sala Palatului, ticket prices: RON 200-500
Legendary crooner Julio Iglesias will come to Romania for the twelfth time to perform two concerts. Classic hits Baila Morena, Guantanamera, La Carretara, El Amor and Aqua dulce, aqua sala are sure to go down well with the iconic Spaniard's legions of fans. In his 40-year career, the singer has sold over 300 million records around the world in 14 languages and released 77 albums.