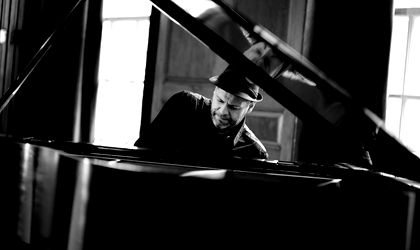 Described as "one of the most gifted pianists to move to New York in the past decade" by jazz critic Bruce Lee Gallanter, Lucian Ban has managed to bring together, in a series of highly creative projects, the best of both of his worlds – his Romanian musical roots and the vibrant US and European contemporary modern jazz scene.
A pianist and a composer, Ban is also the leader of super group Elevation, with whom he will perform this month in Bucharest as part of the international release tour of his Mystery album, produced by Sunnyside Records, featuring world renowned tenor sax player Abraham Burton, Nasheet Waits on drums and bassist John Hebert.
The quartet have been playing together for sometime now, arriving at a specific sound that stands out with an originality that has brought it to the attention of international jazz critics. This is how Time Out NY comments on the group's work: "… Like Wayne Shorter, McCoy Tyner and other vanguard bandleaders of that era, the Romanian born pianist-composer Lucian Ban alongside intense saxophonist Abraham Burton, bassist Brad Jones and drummer Nasheet Waits favor searching post bop that cranes toward the avant-garde without losing the buoyancy of swing."
The group's stage persona is the result of the powerful combination of big names from the New York jazz scene brought together by Ban, such as the saxophonist Abraham Burton, who has been described by the New York Times as having "…flames coming out of his saxophone", his solos being labeled "powerful and creative", by the same publication.
The blending substance between the different personalities of the musicians in the Elevation quartet is given by the "wide-ranging musical interests and a passion for improvisation" of Ban, whose playing has "the elegance and technical precision of the European classical tradition," according to critic Jeff Stockton (All About Jazz).
Ban has recorded more than seven albums as a leader for labels in US and Europe, including Enesco Re-Imagined (2010) and The Romanian-American Jazz Suite (2008). Both of the albums have enjoyed public and critic international success due to the original re-interpretation by international jazz musicians of Romanian classical and folk music, with Ban acting both as a catalyst-composer and a performer.
Discography
2013 "Mystery" by Lucian Ban & Elevation / Sunnyside Records – new release
2013 "Transylvanian Concerts" by Lucian Ban & Mat Maneri / ECM Records – new release
2010 "Enesco Re-Imagined" by Lucian Ban & John Hebert – featuring Tony Malaby, Ralph Alessi, Mat Maneri, Albrecht Maurer, Gerald Cleaver, Badal Roy, John Hebert / Sunnyside Records 2010
2008  "The Romanian-American Jazz Suite" by Sam Newsome & Lucian Ban Ensemble   – featuring Sam Newsome (sop sax), Arthur Balogh (bass), Willard Dyson (drums) Sorin Romanescu (guitar), Alex Harding (bari sax), Lucian Ban (piano) / Jazzaway Records 2008
2006  "Playground" by Lucian Ban & ASYMMETRY – featuring Jorge Sylvester (alto sax), Brad Jones (bass), Derrek Phillips (drums), Lucian Ban (piano) /  Jazzaway Records 2006
2006  "The Calling" by Alex Harding & BLUTOPIA – featuring Alex Harding (bari sax), Nasheet Waits (drums), Lucian Ban (piano), Brad Jones (bass), Andrew Daniels (p) / Jazzaway Records 2006
2005  "Tuba Project" by Lucian Ban & Alex Harding / Cimp Records 2005
Anca Ionita