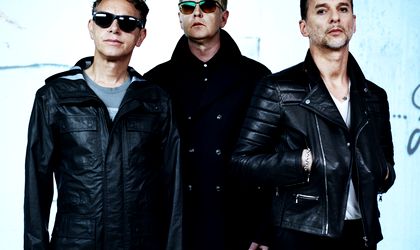 It is now just a Question of Time until the long awaited concert of synth-rock legends Depeche Mode: the iconic act will be playing the National Arena on Wednesday, May 15th.
Public access is possible starting with 17.00 from all three points of access on Basarabia Blvd., Maior Coravu St. and Pierre de Coubertin. Around 19:45, the concert of the opening act Fox will kick off.
Bucharest is included in the European leg of the tour that Depeche Mode have embarked on to promote their latest album, Delta Machine. Fans in Romania no longer have to Dream On after years of hoping for another concert by the British trio, who skipped Bucharest during their previous Tour of the Universe in 2009 due to frontman Dave Gahan's ill health.
The Bucharest show was cancelled, along with a few other dates in the region, and the concert could not be rescheduled. Anticipation is running high as organizers Emag!c Entertainment announced last week that preparations were already in full swing.

The organizers have also revealed to fans a few nuggets about the musicians' backstage riders during their stay in Romania.
Singer Gahan is meticulous about the preparation ritual and wants to relax by himself in a separate room backstage before every show. The room must be done out in dark colors and have black curtains that do not let any sunlight in as Gahan says black is his favorite color and darkness inspires him.
The singer eats a diet of fresh organic food prepared by his personal chef. Catering purchases will be made on the morning before the concert in Bucharest by Depeche Mode representatives.
Composer Martin Gore and keyboardist Andy 'Fletch' Fletcher will share a spacious room painted in warm colors and decorated with natural plants, flowers and candles to give the room a cozy appearance. They will also be using another room with plasma TVs, internet, sofas, coffee tables and an open bar stocked with local beers.
The two musicians also intend to visit Bucharest if they get a few hours off before rehearsals. During their stay, they will have a personal driver to ferry them around the city.
The Delta Machine European tour started earlier this month with a warm-up show in Nice, France, before moving onto Tel Aviv, Israel. Bucharest's May 15 gig will come after a show in the Bulgarian capital Sofia, on May 12.
Known for their doom-and-gloom anthems, Depeche Mode have been exploring themes such as loneliness, love, isolation, addiction, pain and suffering for their 30-year career.
The band from Basildon have come a long way from the poppy and upbeat I Just Can't Get Enough, when founder Vince Clarke was still onboard. After the first album Speak and Spell was released and Clarke left the group, going onto form Yazoo! and Erasure, Martin Gore took over the reins and his songwriting gradually imbued the band's music with dark overtones.
New joiner Alan Wilder was in charge of putting together the songs in the studio, and made an important contribution to shaping the characteristic Depeche Mode vibe, which has been an inspiration for subsequent generations of artists.
Hits such as Never Let Me Down Again, Behind the Wheel, World in My Eyes, Personal Jesus and Enjoy the Silence were penned during that time. The Devotional tour, which Q magazine referred to as "the most debauched rock tour ever" was rife with problems, as the band members battled drug and alcohol addiction, nervous breakdowns, fatigue and friction, which led to Wilder's departure in 1995.
The three remaining band members eventually managed to regroup and since then have released several more commercially successful albums such as Ultra (1997), Exciter (2001), Playing the Angel (2005), Sounds of the Universe (2009) and Delta Machine (2013), due to Gore's solid songwriting and the trio's will to overcome their substance addictions. Currently, the songwriting credits are split between Gore and Gahan.
The blues-infused Delta Machine, the latest studio effort by the British outfit, debuted with the single Heaven, released in February 2013. A video for a second song off this album, Soothe My Soul, was also released at end-March.

Tickets for the concert are available only in the lawn and seated area at prices between RON 145 and RON 320. They can be acquired online at www.Myticket.ro or in the Diverta store chain, the Muzica store, the Mihai Eminescu book store and from the Palace Hall (Sala Palatului) box office.
 Otilia Haraga