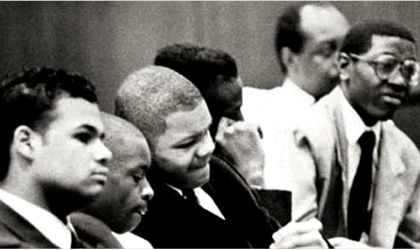 Cinepolitica will once again offer movie lovers a selection of political films, debates and memorable gatherings, aiming to lay bare to the audience political mechanisms and motivations through the art of cinema. This autumn, the festival introduces Cinepolitica Extra Time, an "off-season" event that will kick off with controversial documentary The Central Park Five and close with the premiere of Closed Circuit, directed by John Crowley. All the movies are projected at Cinema Elvira Popescu.
Monday, September 23, 18.00
All That Glitters, directed by Tomas Kudrna, followed by a public debate
Synopsis: All That Glitters examines the strange impact of capitalism and democracy when introduced to a former Soviet country, where people who had never been given autonomy were suddenly expected to make their own financial and political decisions.
Monday, September 23, 20.00
The Central Park Five, directed by Ken Burns (in picture)
Synopsis: The story of five black and Latino teenagers from Harlem who were wrongly convicted of raping a white woman in New York City's Central Park in 1989, the film chronicles the Central Park Jogger case, for the first time from the perspective of the five teenagers whose lives were upended by this miscarriage of justice.
Tuesday, September 24, 18.00 – Exam, directed by Peter Bergendy
Synopsis: Thriller about two Hungarian spies who end up surveilling each other after the revolution of 1956, in a show of loyalty to the communist cause.
Tuesday, September 24, 20.00 – The Company You Keep, directed by Robert Redford
Synopsis: A former activist suspected of involvement in a long-ago robbery and murder goes on the run from a journalist who has discovered his true identity.
Wednesday, September 25, 20.00 – Closed Circuit, directed by John Crowley
Synopsis: A high-profile terrorism case brings together two exes on the defense team – testing their loyalties and risking their lives – in this international suspense thriller.
oana.vasiliu@business-review.ro