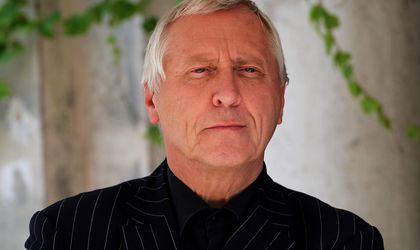 Peter Greenaway (in picture) is the honorary president of the Bucharest International Experimental Film Festival (BIEFF), an event that will connect Romanian audiences to the latest trends in film and visual art once again. During the festival, moviegoers will be able to enjoy a variety of pictures from the top European film festivals, screened in Bucharest by BIEFF through cultural partnerships.
Since 2012, BIEFF has been supported by one of the auteurs making history in contemporary cinema: Peter Greenaway (in picture), the honorary president of the festival. With the British director and many other soon-to-be-revealed surprise guests, BIEFF is promoting Romanian cinema once again, both locally and internationally.
During the fourth run of BIEFF, the public will have a unique chance to watch some of the most daring films of 2013, selected from the most prestigious international film festivals, as well as original Romanian productions.
Beside the already established sections of the festival, the International Competition and Romanian Cinematic Experiments, this year BIEFF is launching three new and special programs: Golden Shorts – Best Films in Major Festival, which will showcase the winners from Cannes, Berlin, Locarno and Venice, the CINE-DANS program from Holland, representing the meeting between cinema and choreography, and Portuguese Miracle, the shorts-up productions of the past two years.
At the closing ceremony of the 2013 run, BIEFF will stage the Romanian premiere of the latest film from the renowned Austrian visual artist Gustav Deutsch, Shirley – Visions of Reality. The special screening will take place in the presence of the filmmaker at Cinema Studio, on Sunday, December 15. Following its premiere at Berlinale, the film received critical acclaim and had an impressive festival career, being screened at prestigious events and museums worldwide, such as Karlovy Vary 2013, Melbourne 2013 and Viennale 2013.
Deutsch says his work follows the life of Shirley, a liberated "woman in America in the 1930s, 40s, 50s, and early 60s. A woman who would like to influence the course of history with her professional and socio-political involvement, who does not accept the reality of the Depression years, WWII, the McCarthy era, race conflicts and civil rights campaigns as given, but rather as generated and adjustable. A woman whose work as an actress has familiarized her with the staging of reality, the questioning and shaping of it; an actress who doesn't identify her purpose and future with that of solo success or stardom, but who strives to give social potency to theatre as part of a collective. A woman who cannot identify with the traditional role model of a wife yet longs to have a life partner."
The festival will be between December 11-15 and will be screened at Cinema Studio and Cinema Elvira Popescu.
Oana Vasiliu