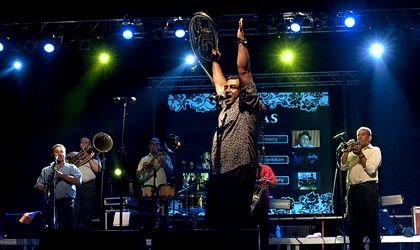 Uranus Garden, September 13-15
144 Uranus Street
A celebration of the new Balkan spirit, tradition and authenticity through music, dance and much joy will start on September 13 in the Uranus Garden (144 Uranus Street, between George Cosbuc Flower Market and The Ark), this year celebrating the great Romanian singer Maria Tanase. The Balkanik Festival is the first event showcasing Balkan music and culture in Romania, and at its center is humanity, multiculturalism and expression in its purest form.
Like the previous one, this third run of the event will last three days and three nights, with the chief draw being musicians of international stature from Serbia, Hungary, Turkey, Bulgaria and Romania.
Alexander Balanescu drew on the songs of Maria Tanase to come up with new compositions for the famous album Maria T, filtering the Eastern European spirit of the original songs with the experience of westerns. The recital is accompanied by visuals from the Tanase film archives, created by Klaus Obermaier, a dedicated media artist and choreographer. Balanescu is regarded as one of the most visionary contemporary violinists as well as a prolific composer. Born and brought up in Bucharest, he attended famous music schools in Jerusalem, New York and London, where he has settled and records under the Mute Records label.
Fanfare Ciocarlia (in picture), a team of 12 Roma musicians from the village of "Ten Poles", Iasi County, is considered Romania's most famous brass band, and has been touring internationally for 17 years giving more than 1,700 shows worldwide. Known as the world's fastest fanfare, the band performed in Oslo in 2012, at the concert to honor the winner of the Nobel Peace Prize.
Mitsoura is a unique musical project that combines Hungarian gypsy tunes with Eastern roots, resulting in an amazing blend dubbed the "progressive electro world beat project".  The singer, Monika (Mitsou) Miczura, has toured the world alongside the Gipsy Kings and Fanfare Ciocarlia.
Taraf de Haidouks is a band of musicians who took traditional gypsy music international with their appearance in the 2000 film The Man Who Cried (dir. Sally Potter), which starred Johnny Depp, Christina Ricci and Cate Blanchett.
Kal
Kal is a Romany world music band from Serbia, whose mix of Balkan rhythms with tango, Turkish, Jamaican and Middle Eastern influences has won it a loyal following.
Kottarashky and The Rain Dogs is an ethno-electronic minimalist music band from Bulgaria which embraces a collection of authentic sounds, inspired by the popular sources of Bulgarian villages.
Tickets are available from the Bilete.ro network, costing RON 130 for a full pass and RON 50 per day.
oana.vasiliu@business-review.ro