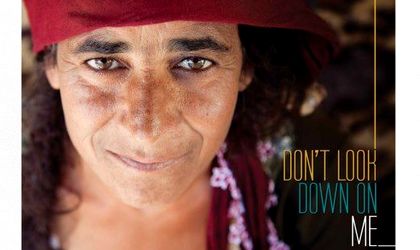 The Romanian Peasant Museum features the Artan Korenica photography exhibition "Don't Look Down on Me", which can be visited until February 1 at the Aquarium Hall.
"Don't look down on me" consists of 40 photographs of the Roma, Ashkali and Egyptian communities from Kosovo, Albania, Macedonia and Montenegro. The photographer, Artan Korenica, started to work on this project a few years ago inspired by true events of discrimination of the above mentioned communities. He felt obliged to make a small step against human discrimination through his artistic work. Since December 2011, the project got the support from the Swiss Federal Department of Foreign Affairs and the Kosovo Foundation for Open Society, with a contribution from the Arts and Culturr Program, Budapesta.
Artan Korenics' Biography
Artan Korenica was born in the city of Gjakova, Kosova, in 1978. He started working as an event photographer in high school. After he moved to Prishtina in 2000 he got trainings as a Cinematographer where he shot several short films, music videos and commercials. In 2003 he moved to New York where he continued shooting films and music videos. While working as an assistant photographer he started doing shoots of his own and developed his passion for photography. Artan Korenica usually shoots with a theme and he prefers doing photoshoots that show a story on its self. Humanitarian projects are always his aim while doing film and photography. He currently works between Kosovo and US.
Oana Vasiliu