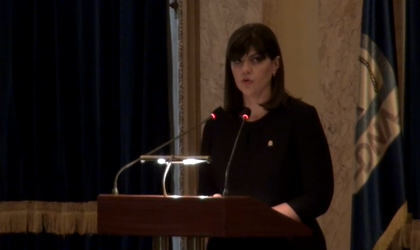 The chief prosecutor of the National Anticorruption Directorate (DNA), Laura Codruta Kovesi, has announced that over 1,250 persons have been put on trial last year, being charged with medium and large scale corruption, including high level public officials.
Kovesi pointed out that a record number of ministers and MPs were put on trial in 2015, including ex-PM Victor Ponta, five ministers, 16 deputies and five senators.
"This is the biggest number of dignitaries investigated by the DNA in a year. We have seized assets worth close to half a billion euros. These are the most impressive figures since the founding of the DNA", said Kovesi, during a press conference, where the institution's activity report for 2015 was presented.
She added that over 100 mayors and presidents of City Councils were put on trial.
"The cases we are working on show us that we haven't caught all the corrupt people. Our results prove there are major vulnerabilities which endanger the well-being of the society. (…) Without clear prevention and control measures, the pattern of crimes repeats itself", said Kovesi.
The chief prosecutor said that corruption is rampant in the public acquisitions system.
The DNA head further stated that the amount of bribes investigated by prosecutors last year amounted to EUR 431 million. Kovesi said this sum could cover Romania's co-financing costs for the construction of motorways through to 2018.
Kovesi has been the head of the DNA since 2013. Her mandate will end this summer, and the minister of Justice, Raluca Pruna, has announced that she will propose Kovesi for a second mandate.
Ovidiu Posirca