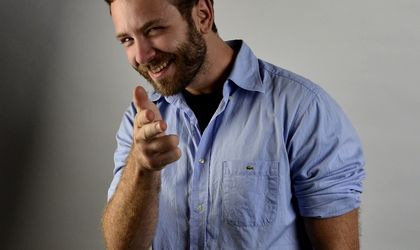 Designer Mihnea Ghildus has transformed a dream into a reality: opening up the first local product designers' store, Dizainar. Currently showcasing 130 Romanian artists who create limited edition items, Dizainar offered the world, through a pavilion at the Milan Salone del Mobile, some of Romania's top items. Near Cismigiu Gardens, in a beautiful, but hidden house, BR found out why you should come here for interior design objects. 
Oana Vasiliu
How did the Dizainăr story begin?

The first time I came across the idea was in 2009, when I saw a similar store in Paris which I found really interesting. It was then that I started talking with different professionals about a concept store; at that time it was actually a necessity for the product designers to have a place to exhibit their work. So basically, these two things led to Dizainăr, the Romanian Design Store: three years of discussions and ideas regarding how to make it work. Also, I compare everything that happens in reality with the design process, so this is how the story began: we had an idea, but it couldn't be transformed into a product immediately. There was a concept phase, meaning the development of the idea by comparison with other similar concepts out on the market. After you settle on your concept, you start building the project, the actual business plan: costs, time, resources involved, and so on. Then, you start building the prototype in order to validate the concept. You can do a model of the form or a model of the process until you finally reach your final prototype. Basically, your prototype is your best business adviser because you learn your lessons from it. Finally, you have your product, in our case the Dizainăr store, which was born as a culmination of all these phases mentioned above.
What is the client profile?
A significant part of our clients are creative types, from students to designers, painters, photographers, architects, in general people who are passionate about their work and the domain of their activity, and this is why they buy our products. Our clients are also open minded, willing to try something new, they understand that the difference between a local brand and an international one is given by the amount of money invested in advertising. They also understand that the difference between the costs is given not by the quality, but by quantity – those products made in series are cheaper due to the creation process than those made in limited edition batches.
What sells best, the online platform or the offline store?
Currently the selling ratio is 50-50. On the online platform, people are buying small items which are suitable to be given as presents. The store is another type of experience; we often do selling events here, so people come to us to also benefit from our guidance.
How do you select the designers? How do you find them?
It's a curatorial approach which often comes from me especially because this store is something I dreamt about and I want to have the items I like. The process of acquisition passes through all my colleagues however; I don't make all decision on my own. Also, everyone on the team has a different specialization and expertise in a domain, so this is why we make decisions together. We also choose the products, not the designers. Moreover, we constantly visit Cluj, Brașov, Iași, Timișoara to see what's happening there because some of our great design products come from these areas.
What can you tell me about the designers' education? Is design something that they learned in school/university or was it a passion they developed by themselves?
Here in the store, we have both types of designers, but those who have studied in the domain come in significantly greater numbers than the others. The problem is that the students don't do any type of practice during school, and I know this for a fact because I teach at the Arts University here in Bucharest. Product design means hours of practice to understand the process and to become familiar with the materials. That's institutional education's biggest minus. But most of our artists have developed their own studios and improved their techniques by themselves. The others often come from fields where they have come in contact with creativity and discovered their passion for drawing or hand-made creations, and basically they learn the processes by actually making the products.
You are a pioneer in the product design market. How about the local interior design market?
Yes, we also have this offering, and it is very eclectic, as it should be, as it is elsewhere in the world: Romanian clients commission everything from Baroque-style houses to minimalist ones, these being the two extremes, and the interior design market is also everything in between. I believe that this market is currently growing, as it used to up until 2010, being also closely related to the construction market, which is constantly developing. Nevertheless, Dizainăr's offer revolves around contemporary items that have something new to bring to the interior.
Do you also sell unique products?
We also have one-of-a-kind products, but very few, because they are situated on the border between art and design, and we don't want to go there. We work a lot with limited editions though; it is a way of extending the artistic approach into design. Another important fact is that most of our products can be personalized by the designer… This process is highly appreciated by our clients and this is reflected in the sales because, in 2015, we doubled the number of products sold in 2014. We also have to bear in mind that before 2012, we didn't have a market of local product design and nobody talked about it, and now, with our store, we created the medium, being basically pioneers on this market.
How difficult is it to find raw materials for designing the products?
Here in Romania we still have plenty of wood, so it's quite easy to obtain it. Also, the rest of the materials mostly come from local manufacturers, so, to answer the question, no, it's not that difficult. Moreover, our philosophy is to use everything locally, from materials to know-how, so we don't have many products with foreign elements. Basically, we mostly use wood, ceramics and metals, everything being available in Romania.
Which are your best selling products?
People often buy ceramics, bowls, cups and kitchen containers, but product sales also depend very much on the period. During the holidays, people buy products as presents, while normally they come to buy things for their own home, including interior design products, such as lighting installations.
From your own designs, which are your personal favorites?
As every designer, I have projects that became alive and others that are still ideas. I have projects from the interior design area, as well as product design. On the product design side, I wanted to make something that would benefit the user so I turned to medical design. I was very happy to work on a product that today is mass-produced and is still strong on the market. It's a salt inhaler designed for a Romanian manufacturer of medical devices from Buzău County; they wanted a special design for this medical device called "Insalin." I designed and took part in its entire manufacturing process back in 2009. As an interior designer, I truly like the project I worked on with Marilena Popa at The Park Apartments, where we designed three of their apartments.