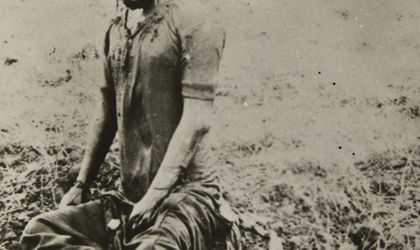 The exhibition presents 82 engravings from the famous Disasters of War series by Spanish painter Francisco de Goya (Spanish: Los Desastres de la Guerra) over 1810-1820, which depicts scenes from the Spanish War of Independence (1808-1814) against Napoleon's troops. The artist etched the horrors of war, its cruelty, fanaticism, terror, injustice, suffering and death. Alongside Goya's engravings, the exhibition includes photographs from the Spanish Civil War (1936-1939) taken by notable photographers such as Robert Capa, David Seymour, Gerda Taro, Augusti Centelles and Alfonso Sanchez, as well as numerous local and anonymous counterparts.
Although Goya did not make known his intention when creating the plates, art historians view them as a visual protest against the violence of the 1808 Dos de Mayo Uprising, the subsequent Peninsular War of 1808–14 and the setbacks to the liberal cause following the restoration of the Bourbon monarchy in 1814. During the conflicts between Napoleon's French Empire and Spain, Goya retained his position as first court painter to the Spanish crown and continued to produce portraits of the Spanish and French rulers. Although deeply affected by the war, he kept private his thoughts on the art he produced in response to the conflict and its aftermath. He was in poor health and almost deaf when, at 62, he began work on the prints. They were not published until 1863, 35 years after his death. It is likely that only then was it considered politically safe to distribute a sequence of artworks criticising both the French and restored Bourbons. In total over a thousand sets have been printed, though later ones are of lower quality, and most print room collections have at least some of the set.
The name by which the series is known today is not Goya's own. His handwritten title on an album of proofs given to a friend reads: Fatal consequences of Spain's bloody war with Bonaparte, and other emphatic caprices (Spanish: Fatales consequencias de la sangrienta guerra en España con Buonaparte, Y otros caprichos enfáticos). Aside from the titles or captions given to each print, these are Goya's only known words on the series. With these works, he breaks from a number of painterly traditions. He rejects the bombastic heroics of most previous Spanish war art to show the effect of conflict on individuals. In addition he abandons colour in favour of a more direct truth he found in shadow and shade.
The National Museum of Art of Romania, 49-53 Calea Victoriei, opened Wednesday to Sunday, 10.00 a.m. – 18.00 p.m., until January 23.
Oana Vasiliu