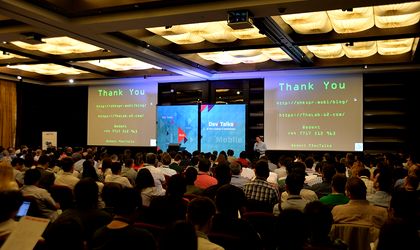 DevTalks, event dedicated to developers and IT specialists in Romania interested in technological evolution in Web, Cloud Computing and Big Data, extends this year to national level. The event will take place in Cluj-Napoca, at Grand Hotel Italia, on May 13 and in Bucharest, at Romexpo, on June 11. The 2 editions will bring together 850 IT professionals, BI / Big Data specialists, IoT, Mobile & Web developers, IT enthusiasts who will bring deep technical content and insights for the contemporary professionals.
DevTalks is an event with and about IT developers & professionals who are interested in the latest trends in technology.
Companies willing to participate to the event can register at contact@devtalks.ro.
DevTalks participants will benefit of a unique experience, sessions and informal discussions about new trends and IT solutions, practical situations and case studies. Key points of interest in 2015 DevTalks edition are:
– 4 different scenes, appointed topics: The Future Web, Mobile & IoT, Cloud Computing and BI/Big Data;
– 15 international speakers form different parts of the world: England, Belgium, Germany, Austria, Netherlands, Switzerland, Czech Republic, Russia;
– 850 developers and IT professionals, technology and professional development passionates;
– 14 hours of technical content and pannel discussions;
The agenda of 2015 DevTalks events is structured according to four parallel scenes, during which will be addressed topics such as:
– Scene: The Future Web – will be will be discussed topics that will address the challenges posed by the emergence of new technologies and processes. Some examples: Beyond HTTP, Breaking Free of The Web, A Glimpse into Disruptive Web Development Education, Next gen HTML5 and JS;
– Scene: Mobile & IoT – implementing solutions for mobile phones remains a priority for IT professionals, and Internet of Things (IoT – interactions between single smart devices interconnected by current internet infrastructure) becomes more and more popular subject. Some exemples of addresed subjects during this scene are: Changing existing UI models, The rise of the IoT;
– Scene: Cloud Computing – will be addressed topics focused on potential, advantages, flexibility and innovation capacity. Some of the addressed subjects are: cloud client architecture, Creating a Faster, More Secure Cloud;
– Scene: BI/Big Data – the debates on this theme will present the technologies, the methods, the implications and the potential of the big volum data. Some of the addressed subjects are: Quality Assurance for the Age of Big Data, The impact of Hadoop ecosystem.
"The event is organized in such a manner that all speakers and participants can really share experiences, the topics of the four stages are the current concerns for web developers, plus sharing ideas and debating with people from other countries is always worthwhile. Finally the possibility to share my experience concerning open source solution and cheap hardware with a maximum of developers is also a huge motivation factor," stated in a release Andre Liechti, CTO & senior consultant at SysCo systèmes de communication sa.
"We believe in the importance of an IT community professionals development project and promoting IT professionals beyond the boundaries of Romania. DevTalks is such an event. The project offers the developers and IT professionals and architects of software solutions the ocasion to obtain a new perspective about their areas of interest, techniques and instruments adapted to technological evolution. More details about how to register and the agenda can be found on www.devtalks.ro or at the section dedicated on www.hipo.ro," added Andreea Balaci, project manager DevTalks.
The event is being supported by: IBM, Accenture, Endava, Luxoft Romania, Deutsche Bank Technology Centre si Brainspotting. Also, DevTalks has the support of IMWorld and Hipo.ro  and over 15 developers communities in Romania.
As a partner of the event, Hipo.ro offers 100 free invitations to DevTalks. Those who want to participate can register on www.hipo.ro , the section dedicated to the project until April 17.