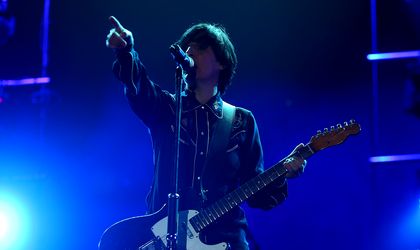 Going to the Texas show was a little bit like going to Texas: first, you had to walk along an arid path, a little bit like the ones you see in American Western movies, amid dust and people in a mood for party to get to the enclosure where B'Estfest was located. Except this time it wasn't for a rodeo, but for a concert.
Texas are actually a Scottish band that have taken their name from the Paris, Texas movie of director Wim Wenders. Their music sporadically uses some harmonies that may lead one to think of country songs- like for instance the first guitar chords of I Don't Want A Lover– yet, you can't shake the feeling that they are a band from Britain. Perhaps that's the appeal of it, and whilst undoubtedly spawning some very strong hits, their music has an individuality and appeal of its own.
This being said, their debut single I Don't Want a Lover was also the song that kicked off the band's recital, their first ever in Romania.
Texas have launched their latest album The Conversation quite recently and the concert in Bucharest was a good occasion to treat the public with some new songs, such as Detroit City or Dry Your Eyes.
A video for The Conversation, the track which also gives the title of the album, has already been launched. It was a well-chosen single, with a good beat and catchy lyrics, that sounds very well live.
Songstress Sharleen Spiteri did not miss even one of the well-known hits of the band and permanently talked to the public in a distinct Scottish accent, even saying at one point that they would like to perform all night.
Some of the stand-out moments of the concert included the song In Demand (for which she did a video with actor Alan Rickman) or Say What You Want, where she asked the male and female members of the audience to sing separately, because "ladies sing from the heart," but nevertheless, she concluded that in Bucharest she had "the best male audience ever."
The concert was generally low-key, with no display of special effects or dramatic gestures. But then again, without attempting to sound too nostalgic or obsolete, Texas comes from a time when good songwriting was still at the core of making music, and a little less packaging only drew more attention to tracks that were simply great.
Probably to pay a tribute to great music, Spiteri chose to end the concert not with a Texas song but with a cover of the song River Deep, Mountain High, originally penned by Ike& Tina Turner in 1966.
Setlist
River Deep, Mountain High