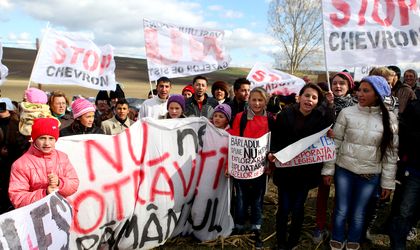 Oil major Chevron resumed works on its shale gas exploration well in Pungesti on Sunday, after briefly suspending operations due to clashes between police forces and protestors over the weekend.
Tens of people stormed the Chevron's site on Saturday, almost entirely destroying the fence marking off the concession. The company filed a complaint to the police following the protestors' move.
"We respect the right of the people to express their opinions, but we believe this has to be done in accordance with the law," said the American company in a statement.
Teams of gendarmes were deployed to settle the conflict and some of the protestors were taken in for questioning. According to Agerpres newswire, some gendarmes were still in Pungesti locality on Monday. A spokesperson for the Romanian Gendarmerie said the atmosphere was "quiet" in the locality.
The protests have spilled over in Bucharest, with several hundred people taking to the streets over the weekend to oppose the exploration and exploitation of shale gas. People are concerned by the environmental risks, such as ground water pollution and earthquakes, posed by fracking, the process of pumping water, sand and a cocktail of chemicals at high pressure into the ground to break shale rocks.
Chevron is the first company that has started to seek shale gas in Romania as the government lifted an informal memorandum that banned any developments in this field this year. PM Ponta has said on numerous occasions that shale gas would allow Romania to cut its dependency on expensive gas imports from Russia.
Policymakers say it will take at least three to four years of exploration before Chevron can assess the commercial value of the deposits. Aside from the concession in Vaslui County, where explorations have begun, the company aims to start similar operations on three more sites in Dobrogea region.
The company has rolled out a PR campaign through villages in Constanta County, where new shale developments are planned. Representatives of Chevron are trying to convince villagers of the benefits of shale gas for their communities, according to media reports.
Ovidiu Posirca
The video allegedly shows a person taken in by gendarmes from a private land, which is close to Chevron's concession in Pungesti.