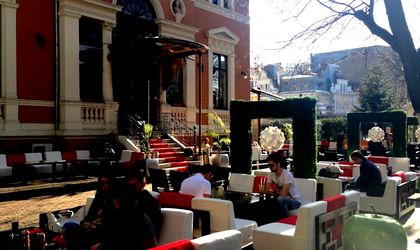 The only nice thing about Barrio is the building. It was a legal library for the Romanian Bar, right up to the 1930's. It is a hugely attractive villa operating as a restaurant since the 1990's which has passed through the hands of many owners – all of whom went bust!
The present owners are a successful high-quality restaurant chain used to writing sexy menus. But in Barrio's case, they stretched themselves too far, for as you will see, none of the food Blondie and I tried from their sexy menu came up to our expectations.
We started off with a bump, because the house must have searched high and low for the one person in Bucharest who could not speak English. They found her and made her our waitress. To further compound our disillusion, their website describes them as "Mediterranean with Spanish accents." What nonsense, there was not a hint of anything Spanish and the only accents we could hear were Romanian and one American desperately speaking English and failing to communicate with our waitress.
So let's get down to their menu. It is good, and prices are a bargain with the most attractive dishes ranging between RON 25-40. So Blondie ordered a simple chicken schnitzel (chicken breast beaten flat and coated with breadcrumbs and spices) with "fry 'n dip potatoes with blue cheese sauce." Well, the potato was nothing more than an English chip (fat French fry) and there was no cheese dip, so we had mayo as a substitute. The chicken tasted identical to that at KFC, so no thanks.  A failure.
But, a larger failure loomed on the horizon, with my "crispy duck with caramelized soy and basmati rice."
The duck was destroyed by simply deep frying it. Far from being tender and moist, it was as tough as old boots and inedible. And the 'caramelized soy' was simply a weak soy dip which probably has a spoon of sugar dumped into it.
Off we went to a "shrimp, lemon pepperoncino (spicy sweet pepper) white wine sauce and garlic." The last three ingredients were missing, and the pepperoncino had been replaced by a mountain of broccoli, which had been over-boiled to a soft, mushy stodge. Another disaster.
But the worst failure was my "seafood tagliatelle with truffle." Yes, there was seafood (all the usual suspects), the pasta was average at best, but there was no truffle. It was replaced by disguising the truffle taste with an essence made from a petrochemical product 'Dithiapentane' which, although it is perfectly safe to consume – is a dishonest gesture from the house to describe it as 'truffle,' for clearly, it is not.
Worse still, any seafood pasta cries out for lashings of garlic, seasoning and white wine. There were none of these in my chosen dish.
And now comes a culinary paradox. The prices are so low that we (and you) could easily afford to make multiple orders off the menu and thereafter discard your dish if you are dissatisfied, with no financial pain attached. On that note, let me show you the beautifully described dishes we passed on. Take for example "stuffed chicken with Camembert, sundried tomatoes, prosciutto, sautéed spinach, and blue cheese 'bon bon'."  Sounds good doesn't it? But so did our dishes which were all a failure.
We further passed on salmon 'in a champagne' sauce. Champagne? Oh give me a break! Probably another mis-description, just like the imaginary, virtual truffle. They had no champagne on the bar menu, so be sure there will be none of it in the kitchen. There were references to 'lime and honey infusion'- big talk, just like the virtual, non-existent pepperoncino and truffle.
Barrio is just another example of the house taking the piss out of the customer, by claiming a foreign/European provenance for their food which is not unique, and not imported as regional and seasonal European fare, and is nothing more than the result of a lazy trip to the local Bucharest supermarket. You could do exactly the same, so why bother going to Barrio.
Michael Barclay
Mab.media@dnt.ro