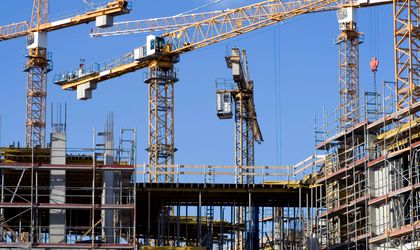 Some 550 new premium apartments are scheduled for delivery in Bucharest in 2016 and 2017, more than double the previous two years' volume, according to data from real estate services firm DTZ Echinox. After years of tepid growth, there is now a clear upward trend, says the company.
Simona Bazavan
Only 30 percent of the premium apartments delivered the past two years in Bucharest are still available for sale while 40 percent of the 550 units scheduled for completion until the end of 2017 have already been purchased, according to DTZ Echinox data. The higher pipeline is partly the result of fewer projects being started in the years following the burst of the real estate bubble. On the other hand, now there is a clear growth in demand which has started picking up last year and which is fueling the overall optimism on this nieche market, believes Mihaela Pana, partner residential agency with DTZ Echinox.
"In 2015 we saw an increased appetite coming from both developers and buyers and this trend maintains in 2016. This year we see that the market starts tor resemble the one we had in 2006 and 2007 when it comes to off-plan acquisitions. This already happens and there are projects that have been already sold up to 80 – 90 percent despite the fact that constructions are in the structure building phase," she explained. Not only that, but the market is once again bubbling to the point where such buyers chose to sell the their properties in six months' time at a profit, she added.  
All these projects are in consecrated areas such as Primaverii, Kiseleff, Aviatorilor, Dorobanti, Herastrau or Aviatiei in northern Bucharest. "What makes a residential development premium? Above all there is the location. There are areas such as Primaverii where more than half of the per square meter price – which is the highest in Bucharest at EUR 3,500/sqm – is paid for the location alone,"  explained Pana.  The most active areas in terms of new developments are Herastrau, followed by Aviatiei and Floreasca, according to DTZ Echinox data. This is not surprising, given that over 100,000 people were working in this part of the capital at the end of last year, says the company. A lower development activity is recorded in Dorobanti, Aviatorilor and Kiseleff, mainly due to the low land availability and a higher number of buildings which are under monumental protection.
Judging from the number of projects scheduled so far, the highest number of premium residential apartments available for sale  – about 86 percent – are located in projects that are due to be completed in 2016. On the other hand, the availability of premium residential units scheduled for completion in 2017 is lower, with only 48 percent being available for sale at the end of 2015.
Developers investing in premium residential projects are local companies the majority of whom have a long track-record on this segment. Confident in the market's growth trend, they are mostly putting in their own funds for starting such projects. "For smaller projects of up to ten apartments they invest their own money and more recently they can also use off-plan sales for financing," explains Pana. Several of the projects now under construction and larger scale, meaning they feature around 100 units, but even in this case developers opt for similar financing plans. "Some may secure a financing from the bank, but this is usually to be used only if needed. Overall, financing conditions remain cumbersome and many avoid dealing with banks," she added.
 More sophisticated buyers
With prices ranging between EUR 100,000 for a one bedroom apartment of at least 75 sqm, and well above EUR 600,000 or EUR 700,000 for larger units, there is a limited number of potential buyers on the Bucharest premium market.
On one hand there are the end-users, mostly top-earning young families of both expats and locals, in their thirties and forties with up to two children. Secondly, there are the investors for whom buying an apartment and renting it offers a better return than keeping their money in the bank. "Since last year we have seen this appetite to invest in premium apartments' return for the first time after about six, seven years. This also comes as banks have significantly lowered interest rates, leading many to turn to real estate investments," said Pana.
The ratio between the two categories is somewhat equally split and they all prefer to buy the properties using own funds rather than bank loans. One difference is that investors are mostly looking at smaller apartments, usually one-bedroom units, with a price tag of between EUR 100,000 and EUR 400,000 which at a monthly rent level starting at EUR 550 – EUR 600 offer an yield of bout six to seven percent. Demand for renting such properties in areas like Aviatorilor and Herastrau is presently higher than the existing offer given the limited number of projects delivered the past years, she added. Larger and more expensive properties on the other hand, are being almost exclusively bought by end-users as they offer investors less attractive yields.
Demand is on the rise from both these categories and while the overall enthusiasm and growth may have a bit in common with pre-crisis times, one significant change is that today's buyers are much more demanding and sophisticated than in 2006 or 2007, says Pana. For one they are no longer interested in large apartments but in smaller ones that make good use of the available space, hence the new preference for one-bedroom units much unlike before. Developers are taking note and adapting to this as the vast majority of the projects under construction presently feature such units. Some 60 percent of the premium apartments scheduled for completion in the next two years fall into this category. Morover, compared with the stock delivered between 2014 and 2015, the number of one-bedroom apartments currently under construction is six times higher, shows DTZ Echinox data.
"They also look at things such as the materials the developer uses, the quality of furnishings and the overall facilities the condominium offers. A buyer that is willing to pay EUR 500,000 for an apartment in 2016 thinks completely different from how one thought in 2006," she adds. A significant change is also the fact that buyers pay more attention to costs – such as utilities and costs with the maintenance of common areas – something that didn't necessarily happen in 2006 and 2007, she explained.
The new swanky addresses
The luxury residential market is a particular one, with a rhythm of its own, say pundits. There is a limited number of prospective buyers, few developers and even more limited room for new developments in the already consecrated high-end residential areas of northern Bucharest."After these two years we will draw the line and see that there will be a limited potential left to develop similar projects in the same areas over the following period," says Pana. 
So as this areas get even more crowded and land for new developments is becoming even scarcer, what new areas promise potential? "There will continue to be investments in this segment but the pole will somehow shift. Developers will move towards the Calea Floreasca and Barbu Vacarescu areas where there is potential for development and where presently there is plenty of available land," she added. Not only that, but what makes this are of particular interest is the high number of office buildings and high concentration of corporate employees. Thereby also a high number of potential buyers and tenants who judging from the data available today, will fuel further growth for the local premium residential market.