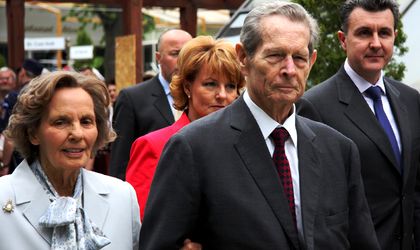 Romania's King Mihai I will celebrate his 91 birthday on October 25, an anniversary which will be marked by a series of festive events taking place in Bucharest throughout the week.
The King will receive on Tuesday, October 23, the Doctor Honoris Causa title from the Bucharest Academy of Economic Studies ASE. The same day will see the launch of the King's Cars (Masinile Regelui) book, written by Prince Radu. The book, meant to celebrate the king's passion for cars, introduces the public to the collection cars driven by King Mihai but also to his passion for airplanes, and  includes numerous unseen-before photos from the royal house archive. The book, published by Curtea Veche Publishing, will be launched at Afi Cotroceni, starting 17.00, in the presence of Queen Ana, Princess Margareta, Prince Radu and Prince Nicolae.
On Wednesday, October 24, King Mihai together with Queen Ana will extend decorations to several personalities in Romania and Europe at a ceremony held at Elizabeta Palace in Bucharest. The same day, the King will receive the Honorary Emblem from the Romanian Defense Ministry.
Thursday, October 25, the King will receive the Doctor Honoris Causa title from the University of Bucharest. The Bucharest City Hall will inaugurate the King's Square, at the intersection of Kiseleff boulevard with the Ion Mincu street. The day will end with a gala concert held at the Romanian Athenaeum. The concert is the fourth charity concert of the Princess Margareta foundation. Proceeds of the event will go towards implementing projects supporting artistically talented youth.
Photo: familiaregala.ro