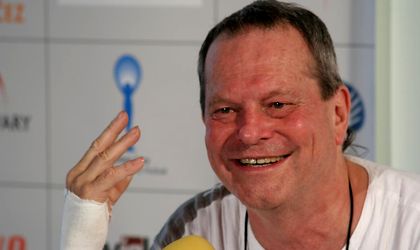 American film director and Oscar nominee Terry Gilliam told The Hollywood Reporter publication that Bucharest will be the next stop for his yet unknown latest project. Although Gilliam doesn't like to talk about his future movie plans, he considers Bucharest the best place for film projects, arguing that "let's just say that I've been seen around Bucharest, Romania. That's it. It used to be that Italy was the best place to make quality films without spending a lot of money. Then, after communism, it was Prague. Then Budapest. Now it's Bucharest."
The interview took place at Ischia Global Film & Music Fest, where the reporters from hollywoodreporter.com found out that "The Man Who Killed Don Quixote" film project has been postponed for one year. The rumors say that "Good Omens" or "Mr. Vertigo" could be produced in Romania, but "Mr. Vertigo" is supposed to be the "winner", while "Good Omens" needs several visual effects.
Gilliam is known for films such as "Brazil" (1985), with Jonathan Pryce and Robert De Niro, which brought his Oscar nomination for Best Original Screenplay; "The Adventures of Baron Munchausen" (1988); "The Fisher King" (1991); "12 Monkeys" (1995) and "Fear and Loathing inLas Vegas" (1998). His most recent movie is "Dr. Parnassus/ The Imaginarium of Dr. Parnassus", which Gilliam had to finish it without Heath Ledger, who died during film production in 2008.
Oana Vasiliu