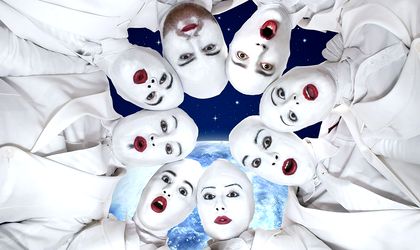 Romanian audiences will get the chance to see again the incendiary show offered by the New York's group Voca People in Bucharest, between May 15-19, when they will deliver seven consecutive representations.
The Voca People is a new international vocal theater performance group that combines amazing vocal sounds and acapella singing with the art of modern beat-box which imitates the sounds of drums, trumpets, guitars and other instruments and musical effects without using any musical instrument on stage, performed in a humoristic way and with audience participation.
According to the group's own presentation, the Voca concept invites the audience to experience the international, intergalactic musical explosion from the planet Voca, located somewhere behind the sun. The Voca people are eight friendly aliens from the planet Voca, a musical planet that has no verbal communication but uses vocal expressions only. They have heard the music from earth for decades now and with their imitation abilities they have decided to pay a one evening tribute to humanity and to perform the songs they love as musical- gratitude.
The show is an ensemble of Captain Beat-On, Tubas, Alta, Scratcher, Mezzo, Soprana, Tenorro and Bari-Tone. They explore the music universe of songs from ABBA, Queen, John Lennon, Madonna, Michael Jackson, Glenn Miller, George Michael or Spice Girls, but also classical music of  great composers such as  Mozart, Brahms, Bach, Beethoven, Bizet, Händel, Rossini and Carl Orff  – over 70 musical pieces in only one show.
The tickets prices are from RON 80 to RON 150, and they can be bought online from http://bilete.arcub.ro/ , www.eventim.ro and www.bilete.ro .
Oana Vasiliu