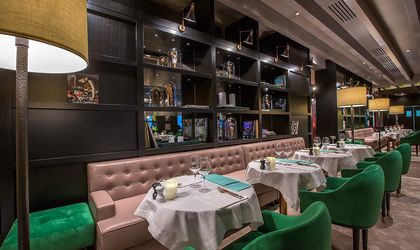 Brash and flash, Stejarii Pool Club, 14 Jandarmeriei, 0744 332 155 – review by Michael Barclay
Over the years, I have written 321 critical food reviews for this paper, but I have always refrained from mentioning the owners' names as it would be a total irrelevance. But here I am, throwing discretion to the wind and telling you the owner of this place is Ion Tiriac. And why am I breaking my own rule? – Because his PR machine has gone out of its way to bring it into the spotlight. Maybe it's just me, but a restaurant's quality is not intrinsic with the owner being a celebrity or not and does not automatically draw me in.  Perhaps focusing on other strong-points might do the location better justice.
But oh well, come with me and we will go there and see if all the boasting is worth the effort.
My experience began, well, when I was greeted at the reception by gorgeous hostess, Alina. She took me to a cool, likeable, professional waiter, Danut. But it soon went downhill with a catalogue of house errors. The place is undoubtedly pretty, but certain details rather unnecessary. For example, the bright expensive carpets on the floors. They will soon learn that restaurants never have carpets, as they are all destroyed by diners' spills. Another mistake is its size. It can effortlessly accommodate 250 covers. In other European capitals, this place would be packed with an eclectic mix of cool locals, rich oligarchs, nouveau riche flaunters, billionaires galore, chic hipsters and the occasional international fraudsters. But, in Bucharest, it's much harder to attract all of them in the same venue so even on a good night, if it doesn't fill up, the empty space might put a downer on the ambiance for the diners.
The biggest disappointment was the menu. The house struts and boasts it is a French restaurant. Oh, give me a break! The ostentatious menu was simply "New York meets Romanian bistro," Apparently, they hired an alleged French chef to design the menu and train the kitchen, after which he returned to France. Perhaps he took the actual French menu with him.
But now comes a paradoxical tragedy because, just like Alina and Danut, the other staff in the kitchen was also superb, as was the food. Every dish we had was excellent, but they were restrained by the menu.  So we had "Vietnamese spring rolls" resplendent with an ethnically correct vinegar/sugar/pepper/ fish sauce bowl of dip, perfect fresh lettuce leaves to hand wrap around the excellent rolls, but it was ruined by not having the obligatory sweet mint leaves to place in the wrap. Romanian mint is bitter, and sweet mint does not exist here.
Off to five ex-frozen (frozen is not a good idea) scallops, with a ludicrous dipping sauce of lemon and cream. What! That sauce is a crime against gastronomy. Anything, but anything ranging from a salsa, or a Cognac, butter and cream sauce, even to a humble cheesy mornay sauce would be better. But, I do not blame the chef. He is merely following orders from the silly menu which, by this stage, was beginning to annoy me.
So again, we had a superbly made "prawn risotto with saffron." Thank you chef, it was so large I had to order a second plate to share it with my dining buddy. But the ghostly invisible hand of the menu designer (and inattention to specifics in the local market) was still present: just like the missing sweet mint, he simply does not understand that you cannot buy a reliable supply of "live" fresh saffron in Romania. There was zero saffron sensation (not the Chef's fault) and I suspect they made up the color of the risotto with flavorless turmeric.
Excellent bread and side dishes were included in the price of the mains, so I ordered a simple bowl of mashed potatoes. In advance of the dish arriving, I asked for extra butter and olive oil to improve it. But stupid me. By now I should have realized that my potatoes would have been as good as everything else we had – and they were. Just perfect, and they needed no help from my butter and olive oil.
We passed on so many "Americanized" so-called French dishes that are too numerous to mention. But, my dining buddy had to order a dessert. OK, I am old fashioned and I do not believe that "real" macho men like me eat quiche or drink Prosecco or order desserts. But he ordered an apple pie, correctly known as a "tart tatin" and I mooched a slice from him. It was superb.
I really do advise you to go there, but if you don't like the rigid menu, ask Danut to tell the chef to make subtle changes to your satisfaction. The staff are so professional, they may well accommodate such an abnormal request.
My only gripe was the prices of the wine. The cheapest house red was RON 120. This should change.
Michael Barclay – Mab.media@dnt.ro