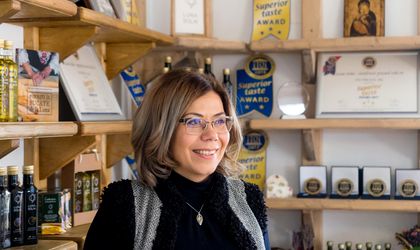 In 2011, as the financial crisis was unravelling everything that only two years before seemed solid, Felicia Tulai made the bold decision to quit her job in a corporation and start a business. Leaving behind a secure job and income in Bucharest, she returned to her native village near Cluj to pick up the work of her parents and bring it to new heights using her consistent work experience. In hindsight, the owner of Luna Solai, which makes award-winning cold pressed organic oils using local ingredients, believes the bet paid off.
Ending abruptly a successful career in one of the Romanian capital's big corporations to start a business in a village hundreds of kilometres away seems like an unlikely decision for most of us. To do that in the midst of an economic crisis seems an even more remote possibility. But for Felicia Tulai, it all paid off. However, the timing took into account the changes unfolding in her personal life, she confesses, rather than those around her. "Sometimes, the decisions we make do not seem grounded in the real world. Later though, they prove to be very good. This happened in my case as well. The moment I took the decision did not seem at all appropriate – the financial crisis was unfolding – to start on my own a business in a field I knew nothing about," she says.
Growing the product
Tulai already had the product. Her parents were producing good quality cold pressed oils in their village. They were using a press they acquired after they retired and made oils they sold in the region. That is why, her objective was to create a brand that would better represent the product. "I then understood that all the experience gathered by then in the fields I worked on had the role to prepare me for what I was about to do: to give added value to the product by transforming it into a pure oil that combines taste and health in a modern form, but based on the experience and tradition in the cold processing of Romanian seeds.
"I started the journey with the goal to develop a premium brand of cold pressed oils based on the diversity that the area and Romanian soils are providing. Currently we are producing, alongside sunflower seed oil, pumpkin, walnut, rapeseed and linseed, all from Romanian crops." Her path to success was not very difficult, she confesses. I relied on my parents' experience in cold pressing the sunflower seeds, which they gathered over 10 years, she says.
"Thus, I relied on a good quality product, consistency and dedication, but also on procedures and management skills I acquired in the multinational company I worked for. All this blended well with my wish to make my parents' dream come true, for their work to be brought further." I did not invest in marketing, she says, but I did put money into making the product better, including in packaging, labelling and its identity while keeping its story alive.
Making award-winning oils in the village of Luna
The cold pressed oil made by Luna Solai  is the only such oil in Romania to have been awarded three stars by the Brussels-based International Taste & Quality Institute (iTQi). the company's other oils, the walnut, pumpkin and rapeseed received two out of three.
"We wanted to have a fair evaluation and the iTQi does just that, by assessing the products in blind, she says. They do so without knowing the identity, the origin and the producer of the items they are about to evaluate. The evaluators include chefs, sommeliers and international quality experts. "It is a very important acknowledgement for us, which gave us courage and trust to keep on going further, that what we do, we do it well."
Local bond is important
We are using exclusively seeds from Romanian cultures, due to the bond that occurs between the environment we are born in and live and the products we consume and the taste we enjoy," Tulai says. "I believe my mission now is that to create a healthy products that can help those who use it reach a state of physical, mental and emotional balance," she explains. And the visual identity shows just that. "The moon and the sun signal balance, and the connection with our soil and origins are reflected by the name Luna," she explains.
When dreams pay off
Luna Solai' turnover in 2017 stood at RON 1,162,000. The recently opened online shop brought around 5 percent of sales. Most products get sold in fairs and exhibitions, both national and international as well as through partnerships with local stores. Also, the company's new location is frequently hosting events.
According to Tulai, whose first participation in a fair took place in 2012, attending such events is crucial. "They give you the opportunity to position yourself among similar products around the world, to know other markets and to better understand the market's demands and adapt to them.
In fact, selling abroad is one of the goals of the business owner. "We want to make our products known on other markets as well, where the consumer values good quality products more than those sold at small prices."