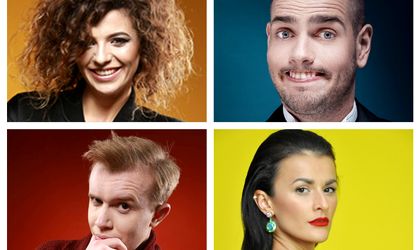 Earning a living out of doing what you love is any entrepreneur's dream.When you make money out of making people laugh, it's "lucky," but only happens when "you are among the best and most well known." Online stars LikeOne, Ionut Rusu and Matei Dima (Bromania) shared with us their experience and explained what it takes to be a successful content creator.
Highly entertaining pair Ruxi and Cristina, the funny women behind LikeOne, their occasional sidekick Ionut Rusu and Bromania's Matei Dima are among the most popular Romanian internet stars on YouTube. Their videos regularly amass tens of thousands of views, with the most popular hover in the range of 2 million views. Bromania's most viral clips, featuring Matei Dima, are in a league of their own, having already exceeded the 20 million views threshold.
Popularity, adrenaline and the kick you get from entertaining thousands are reasons enough to spur their creativity and motivate them to keep on creating. But success, in their case, is also translated into increasingly higher revenues. "When you're good at something", Dima asks himself paraphrasing the Joker, "why do it for free"?
Laughter and then money
Asked whether it is possible to make money in Romania out of making others laugh, the three agree that the answer is affirmative. "Fortunately, yes!" says Rusu, adding "we're so lucky that the internet gave us this opportunity. Commercials and stand-up comedy shows bring us incomes that we can't complain about.""Of course," says Dima. "People have always liked to be entertained. Romania's funny people make money by using their image on their social media channels such as Facebook, YouTube, and so on."
There are a few key ingredients to online and offline success, however. "Of course you can make money out of comedy, even in Romania, the only condition is to be among the best and most well known," says Ruxi. "In the entertainment business there are always ways of making money," she explains, "but it takes time. "We never imagined we would end up making a living out of this", she says. Also, gaining thorough knowledge and targeting the right platforms is crucial. Moreover, graduating from posting online clips to providing other types of services is a necessary step when looking to make a successful career in terms of both views and revenues. "Platforms like YouTube also pay you but it is very little, compared with how much you make from endorsements," Dima notes. Also, "you need to make a bunch of compromises to gain enough views to make a living from YouToube only," he explains, implying that a performer's image is its most valuable currency. In other words, you must create something that becomes viral at all costs, which invites in compromise on quality. "You have to create challenges, distraction, fake feuds and farces and other types of content that usually lacks in quality but generates views with most people."
It all starts off with a joke
One cannot be too far from the truth when imagining that they all started off one day by performing in the mirror just for fun and then for family and friends. What motivated them to look for a wider public for their sketches? "One day, I decided to show my skills to other people than my family and friends. So, I started impersonating celebrities on the internet and, step by step, my public started to grow," Rusu says about the transition. "The only motivation I had was to make people laugh, after a rough day at work. Other advantages came after that."
For the hilarious duo LikeOne, "it all started off as a joke". "We never imagined we would end up making a living out of this. We started filming ourselves with our phones just for fun, but apparently for other people it was fun too. At one point we realised that we had an audience and people were following us." Their success came overnight, quite literally. "We had a 'boom' overnight with one video. Overnight we made 20k likes on our page and that was the moment we knew we were creating something," Ruxi recalls.
For Bromania's Dima, whose carefully choreographed and highly viral videos reflect his background in directing, it all added up towards him being where he is today. "I started off when I realised that everything I had learned up until that point had prepared me to be a successful content creator. I had a degree in directing , I had one in acting and I had a PR degree as well. All the directing and writing for other people I had done plus an iPhone was all I needed."
Also, the lack of talent on the Romanian internet also helped, he jokes. "Or", he explains, "where there was talent, there wasn't enough commitment, or hard work or just simply ambition. I had that. So four years ago I decided to take on this opportunity. For one year I took it lightly, then, exactly three years ago I moved to Bucharest and made Bromania my life," he recalls.
Business is no laughing matter
For Bromania, "things went as expected, or even better. I was able to grow to be the most followed content creator on Facebook and Instagram as well as the most watched" in Romania. Alongside, his career made a solid move offline. "I did a full year country tour for my stand up special  CuDeToate, which finished with a sold-out show at Sala Palatului  a dream come true."
Dima, whose instantly recognizable face is plastered on billboards in Bucharest centre, became the national image of Vodafone two years ago, marking a major breakthrough. At the same time, he ventured even more on the business side. "I partnered up and opened the biggest influencer agencies in Romania : Global Influencers and Trending Influencers, as well as a Publicity Agency called MainStage which we launched this year."
Most of his revenues come from brands. "I have been representing brands like Cola Cola and Vodafone for a couple of years now. I didn't make collabs in the first two years just because it wasn't feasible. I started negotiating and making deals when I knew I had already demonstrated what I have to offer. And it paid off. I also attend events and presentations where I get paid to talk or present sometimes." As for his 2017, revenue, he brushes off the question. Last year I made "a lot, but didn't save any. It all gets reinvested in my projects," which include an upcoming TV show and a film, which will be launched next summer. "I suck at putting money aside, mostly because I am very confident about being able to start over if needed be."
"I do manage my own business but we have an in house team of accountants and lawyers that deal with contracts and paperwork. Also, our sales team is top, since our agency's main attribute is getting the best deals for our influencers or brands," Dima tells BR. He works with around 8 people for Bromania, and the team includes an editor, a camera crew, a producer, sales representatives and a PR.
"Most of my revenues come from online activities," Rusu, who is represented by Global Records, tells BR. "There are several brands I have partnerships with now, like Coca-Cola, for example and Youtube, also, is another platform that helps us increase our incomes. Beside that, me and my mates perform stand-up comedy shows, but only when we find some free time in our schedule." As for whom manages his checks and balances, he says : "I collaborate with a specialised company in this area, but they decide only in the business area, if I can say so. They participate at meetings with brands or people who want to work with us, they negotiate for me. But in terms of content, I'm the only one who decides and that gives me confidence," he explains. As for the exact revenues he obtains, he is pretty much satisfied. "I can afford to pay my rent, my bills, eat well (that's why I got fatter) and go on a vacation. In conclusion, I'm very satisfied with my incomes."
His team, whom he calls his "family", currently counts around 10."Our team is made of passionate persons, who work alongside me at every project I have. We're a group of 10 or more comedians and we help each other as much as we can. That's why I like to call them "family," he says.
For LikeOne, things are a tad more simple. Or complicated, depending on how you look at things. "Our team? Haha! We are aiming to have a team but right now it is just the two of us. Everything you see is done by us."
As for the figures, the girls are more upfront. Last year, LikeOne made around EUR 30,000, Ruxi tells BR. "We have started this project three years ago but only at the end of 2017 we can say that we started making enough money. "The money we are making now comes from advertising deals and product placements on our platforms: Instagram, Facebook and YouTube." LikeOne has been represented by Global Records since 2017.
Asked whether being a woman comedian in Romania posed any specific challenges, Ruxi does not shy away. "Being women in the Romanian comedy world is though," she says. "You have to understand that in Romania this is a 98 percent patriarchal field. Women are rare finds. We were the first women to make entertainment in the Romanian online and unfortunately, we still are. I mean, there are vloggers out there but not comedians."
What makes a video go viral?
According to Bromania, anything relatable could become viral. "Thats how people become famous overnight. If you create things that are relatable to the masses, you can blow up. People will watch something and remember it also happened to them and they will laugh about it. Of course there are other add ons, like good acting , a good set up or well paced editing but the idea is always the most important. You can screw up a video in the editing room and still have it be funny if the idea was good, but you can take a bad idea and make it work with all the editing in the world. Well, excluding CGI."
"This is the beauty of internet!" says Rusu. "You never know what becomes viral. We just do what we like and what we think it's funny. Sometimes, it's all about the moment you choose to post something. If it's related to some national news or stuff like that, it will spread fast. The public decides what becomes viral or not."
Unfortunately it is not us that choose what becomes viral or not, LikeOne's Ruxi agrees. "That would be easy! The audience is the one that decides if our video is viral or not. Usually what we least expect becomes viral, ironically…"
Any advice for fellow funny Romanians?
Arguably, there are other funny men and particularly, women, out there, and perhaps some of them are now watching funny clips on the internet, dreaming of a career. Recommendations for them invariably includes the keyword "work." Also, patience is key ingredient.
"Anyone who wants to follow this path has to work hard and focus on that for several months or even years," Rusu says. "If they just keep trying and trying, the results will finally come. The road to success is the most exciting part in this career. It's even better than the destination. So, just enjoy the ride!"
"Nowadays everybody wants to become a vlogger. I mean we realised it has become a job. People see it as something easy but it is not! It is not easy money!" Ruxi says. "You need to put a lot of work and time into it. I mean, we have been doing this for three years and only for the past 6 months we can say that we feel that we are indeed among the most known onliners in Romania and agencies and TV shows contacting us. So imagine how much time we waited for acknowledged success. The irony is that big numbers don't necessarily bring you a place in the top when it comes to making money. You also need a solid name, your name has to become a brand. So bottom line, work hard, stay focused on what you do and don't give up. If your goal is to get at a certain level don't let anybody put you down! Its your dream! Work for it!"