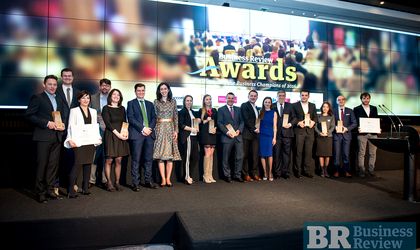 The winners of the 12th edition of Business Review Awards were announced during an exclusive gala that was attended by around 200 high-ranking representatives of the business environment on Monday evening.
This year, the competition included 43 finalists that were companies, entrepreneurs, executives and business leaders.
Here are the main statements from BR Awards:
Oana Craioveanu, the president of the jury of BR Awards 2017:
"It's been a pleasure to be part of the jury.  It was a great team. I want to encourage any of you that should get the invitation in the upcoming years to be part of the jury – go for it, don't hesitate. I know you are busy people. I know I
looked at it and tried to assess how much time it's going to take, but it's an amazing and extraordinary experience. (…) One, for sure, is the quality of the jury and the people that are here we're in a great team. (…) The second is what are we judging, looking at and the number of projects, both individual and businesses that we had to look at, was really inquiring and it was great to discover their stories and new stories that are taking place in Romania when we are talking about creating value for society/business.
On the process, Business Review deserves a big round of applause. It was really amazing in terms of nominations, the way they handled like communicating the categories, inviting people to sign-up openly, but also inviting certain businesses and business leaders to be enrolled in the process. We went through a thorough decision making process.
It was a pleasure and somehow a big surprise to see the number of Romanian companies. Compared to other years, it was something that stood out, the big number of Romanian companies that are present in different categories."
Gheorghe Racaru, CEO Blue Air:
"Blue Air made a comeback starting 2013. At that time, we had just 6 aircraft. We closed 2015 with 16 aircraft, 2016 with 24 and we are looking for the summer season to reach a first critical mass of 30.  We became the biggest Romanian airline, bigger than Tarom. I still have Tarom in my soul. (…) I think they will survive.
We are operating in Romania, internationally and domestic flights. We have started to open foreign bases. We started with Turin, in Italy, where we have right now five aircraft based there, and expecting about one million passengers there next year. The second outside base is in Larnaca. The third one will be operational at the end of March. We have another five bases in Romania – the second largest in Bucharest for Otopeni, Bacau and then Iasi, Cluj and we opened Constanta for the summer season.
We've been able to put in practice our strategy for the domestic operations to connect the cities in Romania without passing by Bucharest. This is a big achievement we made and we succeeded to fly from Iasi via Cluj to Timisoara and vice-versa and in the summer from Constanta, connecting to Iasi, Cluj, Timisoara and Oradea."
Tudor Vlad, president eMAG Foundation:
"We launched this program almost five years ago and at that moment we just wanted to support the national teams
for the international olympiads. But working with these children and with their teachers, we realized that in Romania, there is still a strong community of valuable teachers, on one side,  and very good children on the other side. (…) Our interventional model is rather simple: To find these very good teachers and to support them to train all these very good children. We have now almost 3,500 children who are training in our performance training centers in 12 cities in Romania and we intend to go further."
Csilla Csaki, CFO of FlashNet:
"It's a great honor to receive this award in the name of the entire FlashNet team that stands behind this innovative and successful project called InteliLIGHT."
Re.Flex was named the Best Start-up – a new award that was granted for the first time this year
Camil Moldoveanu, CEO of Re.Flex:
"It's a big surprise and great honor to be here tonight representing the Re.Flex team.  We gathered very bright engineers and we know, based on the time that we spent until now we can make a dent in the physiotherapy industry. Our users are very happy."
ImpactHub and ING Bank got the Best Start-up Supporter Award for Startarium
Oana Craioveanu (Impact Hub) – Catalin Vasile (ING Bank)
"Startarium is an online city of entrepreneurs. That was the promise one year ago
and we have been working for one year ago before launching it last October. It's basically the place where early-stage entrepreneurs can find resources, inspiration, support for launching their businesses and developing them further. Currently, we just have over 7,000 users," said Craioveanu.
" Two years ago, this was one of the 600 ideas that I was submitting to the Innovation Center in Amsterdam and after many rounds of selection, I got the promise of the financing from the Innovation Group. And then, one year we were wondering how to start it and how to make this idea to help the start-ups beyond the business, the banking that we are usually doing and we are very glad that we met Impact Hub," said Vasile.
Teach for Romania got an Honorary Award
Corina Puiu, co-founder Teach for Romania:
"I'm coming after 17 years of experiencing business and I'm having this NGO, which was started three years ago. What I've learned is that we are not only us making the transformation of education in Romania, it's all of us and we actually realized that we are facilitating somehow your involvement as well. So you are actually in this, you are trusting us to put your money, support and we are having a collective impact."
Ileana Alexandru, VP HR Department Mega Image:
"We take it with modesty, as a confirmation of what we are doing. When you are an organization of 10,000 people and you made the mission of giving each and every one of them equal chance of develo
pment, and career opportunities you need confirmations from time to time. And this is for us.
Profiling is not a fancy project, it's an assessment project. Impressive by its size, because we assess 240 people of our store managers, some of them having their education inside our organization.  We have the mission of giving them the chance to become managers of the organization. We have a percent of 99.99 percent of people becoming store managers right from the shelves.
We know this mission is beyond us and we know that is more than the borders of our organization. This is why I dedicate this award to the organizations that together with us take a statement, the ownership and get involved in the education and people development in this country in a moment when we need it the most. We know what our mission is."
Radu Georgescu, the founder of Gecad Ventures, was named Business Leader of the Year
Ana-Maria Ungheanu, the assistant of Radu Georgescu, took the award on behalf of the entrepreneur, who wasn't able to attend the event:
"Nothing can be more accomplishing than receiving an award for the work and efforts. For over 25 years, he has bridged Romania and the United States."
Romanian real estate mogul Ovidiu Sandor, of Mulberry Developments, has received an Honorary Award
Ovidiu Sandor, CEO of Mulberry Development:
"Thank you Business Review for this honor. It's amazing to be tonight here, at the Gala where we celebrate the way we built Romania well in multiple ways through the businesses you lead, the start-ups that you start or that you support or through education and social involvement. Beyond that, of course there is the physical Romania that we build, we the people working in the real estate. What we can say about the last 25 years is that we have been extremely good at building Romania very badly.
If we talk about real estate, most people, even those in the real estate industry, will think about building square meters, leasing sqm, selling and buying sqm. That's not what we are building. We believe that real estate projects should be concepts that will lead to buildings that will create actually environments where people could work, environments that help the creativity, environments that are pleasant for the city in which they are placed, environments that are pleasant for the people that live in them.
That's what we have done, for example, with City Business Center, the first project in Romania to receive the green building title. The same we have tried with The Office in Cluj-Napoca, a place that had become the business hub of the city, where the talent and the strong companies on the city are placed.
And that's exactly what we are trying now with the project in Timisoara called, ISHO, a very central location where we are creating the first new modern neighborhood of Timisoara, where we are building about 1,200 apartments, a nice office environment, a 5-star hotel (…) We will actually create the new job of neighborhood curator that will be employed to help the neighborhood and develop actually as a real human environment."
Polish Enterprise Investor won in the Deal of the Year category for having sold Profi to Mid Europa Partners
Serban Roman, country director of Enterprise Investors:
"We had Profi, where our preliminary investment thesis was validated by the most important milestone in the life of the transaction, which is the exit and it was a great exit.  And we had Noriel, where we were just at the beginning.
I think that our knowledge of the consumer market, and especially of the retail market was crucial when we initially (…) managed to acquire Profi in 2010. The same experience was important in bringing expertise and talent to this company. And this is how, for instance, we were able to bring Pawel Musial, who at that time was an executive in
Poland, Ukraine and Russia, was brought to Romania and he had an excellent to this company – fine tuning and changing the steering wheel so that the company started to accelerate.
Together, then we decided the succession plan, the model of the company to be handed to, if you want, the young Romanian wolves, you can call them the hungry managers. We identified Daniel Carstea and we decided how the succession would be implemented.  And then Daniel continued this great development of the company.
I personally believe that the contribution of the people that we brought into the company, be it Pawel, Daniel or the rest of the managers, who worked in teams inside the company, was fundamental for this story. They really changed the company, they transformed the company. (…) What I know is that a very important skill for an investor is selecting the moment to buy and when to sell a company."
Alexandru Geamanu & Laurentiu Banescu of Bere Zaganu were awarded in Entrepreneur of the Year category
Alexandru Geamanu – co-founder Berea Zaganu:
"I would like to thank everybody who drank our beer (…) and one last thing – exactly four years ago, on this very date, we signed a contract and we brought this brewing facility and we started dreaming of building an authentic Romanian brand."
Funky Citizens NGO won a distinction for its fact-checking platform Factual
Elena Calistru, chair and co-founder of Funky Citizens
"You can't have sustainable growth without a strong democracy and I also strongly believe that we need accountable politicians and it's up to us to do it"
Dan Stefan, founder of Autonom:
"Tonight I really liked that many of the speakers talked not only about business
and we strongly support this. We, the few hundreds employees that we have, can't no longer say that it's just business as usual because that old model where we look at the shareholders (…) I think it no longer functions well. A few years ago I think, four years ago, we decided to completely rewrite our vision, which until that moment was pretty mercantile. (…) We decided to be bold and to put something very different, which has nothing to do with our market position, with our field of expertize, what we know how to do or what we might do in the future.  Our vision was just to be an authentic business model.  (…) From that moment, that's what we do each day with our employees. When we do the assessment, which are of at least 4 hours every six months, a big part is how to do that. The main portion of this is personal development."
Superbrands Romania received a distinction
Raluca Costache, project manager, Superbrands Romania:
" BDR Associates is actually the communication agency that brought this event in Romania 10 years ago. 10 years ago we were thinking of actually practicing brand reputation management as an adventure. (…) Today, Superbrands relies on the valuable advice of the Council. We also rely on the advice of the boards of reputed research institutes and on the voice of the consumers."
All photos by Vlad Virban