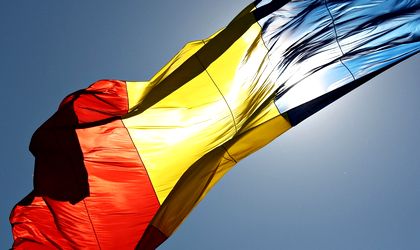 For the ninth annual Business Review Awards, we wanted to celebrate the campaigns and individuals that have made great strides in promoting Romania's image abroad, especially in the arts, culture and creative sectors. Nobody benefits more from the efforts of these nominees than the Romanians and expats living here, so it was fitting to let them decide who had achieved the most in 2013.
Oana Vasiliu, Diana Petrescu, Anca Ionita
The George Enescu Music Festival
"Queen Marie believed that life is a glorious celebration of music and song. A century later, the country's capital city of Bucharest, once known as the Paris of the East, has lived up to the queen's motto by staging the most ambitious classical music festival Romania has ever seen." This is how the Boston Globe's music editor wrote about the 21st edition of the George Enescu Festival.
One of the biggest music festivals in Eastern Europe, the event broke record after record in 2013. It brought over 3,000 foreign artists to Bucharest and another nine cities in Romania: some 120,000 ticket-buying spectators (including 20,000 foreigners) enjoyed 150 concerts around the country. Furthermore, 22,000 tickets were snapped up within two hours of going on sale online.
Mihai Constantinescu, general manager of Artexim (the organizer of the Enescu Festival), whose managerial skills and talent over the past 23 years have put the event among the top five European classical music festivals (in competition with Salzburg, Aix-en-Provence and Bayreuth), says several factors have contributed to the international relevance of the festival: "First it was the idea to invite the most important artists of the moment to perform in Romania and the request they perform Enescu's works, mostly unknown outside our country. Secondly, the idea to invite journalists to write about the festival, thus exposing them to Romanian culture, Romanian classical music and the Romanian people and audiences. Last – but not least – to bring together Romanian artists and foreign ensembles, artists, orchestras and composers. In this way we opened up Romania; we showed we have an important culture which people did not have too much information about."
Child's Pose
The most successful Romanian movie released in 2013 was Child's Pose (Pozitia Copilului), directed by Calin Peter Netzer. The film premiered in competition at the 63rd Berlin International Film Festival where it won the Golden Bear, also claiming the Telia Film Award at the 2013 Stockholm International Film Festival. "A ferocious psychological drama" and a merciless "examination of socio-political dynamics", at the heart of the film was the powerful performance of Luminita Gheorghiu, nominated for Best Actress at the 26th European Film Awards. Acclaimed all over Europe as one of the best productions of the New Romanian Cinema wave, the film also had a strong promotion campaign in the United States, and was Romania's proposal for Best Foreign Language Film at the Oscars in 2014. Although it did not make the shortlist – despite the very good reviews it got on both sides of the Atlantic – the campaign, coordinated by producer Ada Solomon, made the film known to a larger American audience than usual. "If you missed the remarkable Child's Pose during its one week at the Nuart in West Los Angeles the movie gods have given you a reprieve," wrote Los Angeles Times film critic Kenneth Turan in the online edition on February 24, 2014.
The movie is currently being screened around the world.
Solomon was given the European co-production award, the Prix Eurimages, during the European Film Awards ceremony in Berlin in December, to acknowledge "the decisive role of co-productions in the European film industry."
Catalin Anchidin, the film's communication director, says many foreigners wonder why Romania does not support or invest in culture and innovation. "I have the feeling that foreigners trust Romanians much more than we do. Furthermore, as we move beyond the communist period and standard Securitate questions, foreigners are much more up-to-date on Romanian fashion design, cinema, and artists in general; therefore most questions are focused on these topics," said Anchidin.
eMAG Foundation
Spotting the paradox in the current Romanian educational system – many good teachers and brilliant students, enrolled in a system that badly manages talents and fails to present them as valid examples for future generations, eMAG Foundation supports education and high-achieving Romanian students in international contests. In 2013, Romania was fifth internationally and first among the European countries at the International Physics Olympiad. Gold medalist are not a rarity – it happens every year, without exception, yet Romania is still struggling to prove that a 17-year-old student who won a gold medal at the International Physics Olympiad is at least as worthy of attention as a football player. "From our point of view, Romania's most valuable resources are its brains," says Tudor Vlad, president of eMAG Foundation. "One of our (very) long-term objectives is to develop a strategy to encourage the brightest young people to stay in the country and teach others. That would help raise the overall level of education."
La Blouse Roumaine
La Blouse Roumaine is the first online community dedicated to the "ia," the traditional Romanian peasant shirt. In 2013, the community proposed June 24 – also the first day of the Sanziene holiday – be declared "International Day of Ia". The event proved popular, and was celebrated by people wearing the famous blouse in over 50 countries on six continents, that posted their photos on the community's Facebook page. La Blouse Roumaine is the name of a 1940 painting by Henri Matisse , one of a series of portraits dedicated to Romanian ie. Matisse was fascinated by the blouse, which he discovered through his friendship with the Romanian painter Theodor Pallady. La Blouse Roumaine (paper oil) depicts a ie-clad peasant woman, wearing plaits and with her hands in her lap.
Magiun de Topoloveni
This brand of traditional Romanian plum jam had an excellent year, entering the Finnish, Swiss and Japanese markets thanks to a European project rolled out by Sonimpex with partners in Greece and Italy. Company officials told BR that export sales are mostly through organized fairs, but they did not provide concrete figures. Bibiana Stanciulov, general director of Sonimpex Topoloveni, says that Romania's image is often distorted for various reasons. "It bothers me that foreigners sometimes seem surprised that I manage to get excellent quality products. I was surprised by the reaction of a German who told me that if he were to sell any of my products, he couldn't sell anything labeled 'made in Germany', because of our outstanding quality," Stanciulov told BR.
Making Waves – New Romanian Cinema Film Festival in New York
Making Waves is a festival showcasing New Romanian Cinema organized by the Film Society of Lincoln Center, Jacob Burns Film Center and Romanian Film Initiative, in collaboration with the Transylvania International Film Festival. The festival aims to provide a panorama of contemporary Romanian filmmaking in the US, as well as introduce American audiences to classic landmark films through powerful and inventive programming. It is the only comprehensive US festival dedicated to showcasing and celebrating the best of Romanian contemporary cinema as well as rarely seen classics. Well received by New York critics and filmgoers, the festival has screened local productions that have been lauded as "some of the most vibrant and engaging international filmmaking in recent years – garnering ten major awards at Cannes, Berlin and other festivals and spawning a movement referred to as the Romanian New Wave" (Indie Wire).
Corina Suteu, co-founder of the Romanian Film Initiative, president of the Making Waves Festival, says among the important elements for a country's image is "the power the media communication has developed in the last 20 years under the influence of the technological boost, while neoliberal influences on the market economies in European states determined the growth of the 'country branding' concept, typical for Anglo-Saxon societies in particular. Romania, like other Latin and South East European countries, has struggled sometimes with this concept, as it was formally and wrongly translated to the region. The solution is to give content to a branding strategy, not just to create and implement image campaigns that do not match the real potential of the country, or match it in a superficial and old-fashioned, stereotyped and banal way." Asked by BR if the public institutions are of any help in promoting her festival, Suteu says not yet. "We have had a few interviews on the Romanian Public Radio, and we've also had support from the UN Embassy in New York in hosting three of our guests".
Princess Marina Sturdza
Since her return to her native country in the early '90s, Princess Marina Sturdza has made it one of her priorities to change the lives of Romania's institutionalized children, a terrible legacy of the communist regime and one of the elements contributing to the overall negative perception of the country in the Western world. Patron of several international charities and organizations active also in Romania, such as Hope and Homes for Children, The Hospice of Hope and FARA, she has directly participated in their orchestrated efforts to actively transform the Romanian childcare system and legislation. She is a winner of the EU's 2005 European Women of Achievement Humanitarian Award, the 2009 Avon Award for Humanitarian work in Romania, as well as Save The Children Romania's 2010 special achievement award for her work in child protection.
"In 1989 Romania was faced with a tragedy, the likes of which nobody had accurately assessed earlier. More than 120,000 children were languishing in institutions, some in unspeakable conditions, all the grim results of Ceaucescu's Kafka-esque social engineering policies," says Sturdza. "Few people knew of this dreadful situation, and Romanians discovered the situation at the same time as the rest of the Western world, when films of the institutions began being shown. Romania can rightly say that miracles have been accomplished, with fewer than 8,000 children still institutionalized, all of them with far better prospects, and the accent now is on prevention of abandonment. All governments have made the fate of the children a priority for the country, working in tandem with many NGOs and agencies. Along the way, we became leaders in de-institutionalization, and we now represent standards of excellence in those domains," she adds. According to her, the most important element in a country's image is "pride in one's country and reflecting that pride at every level, individual, local and international. We are responsible for our own image, not that of other countries," she stresses. In her opinion, the young people are the country's "greatest asset", and they should be "our greatest investment in its future".
Prince Charles
Prince Charles made several visits to Romania in 2013, each time focusing the media's attention on the country's numerous assets. The heir to the British throne said in the third installment of the documentary Wild Carpathia expressed a desire to help the country preserve its rural cultural heritage. "These people have been through a lot, they have seen much suffering, destruction, and their lives have been destroyed. We owe it to find a path for a better future that they should preserve their culture, traditions and values​​," said the Prince of Wales. He first came to Transylvania in 1998, when he was "totally overwhelmed by its unique beauty and its extraordinarily rich heritage". He bought a property in the Saxon village of Viscri, near Sighisoara. Telegraph journalist Adrian Bridge accompanied him on one of his summer visits to Romania, in 2012. He wrote, "For the Prince of Wales, the region represented a dream come true: a living example of the possibility of a more harmonious relationship between man and nature; a community that, rather than destroying its traditions in the race to modernity, seemed to have preserved and adapted them. He decided to add his voice to those calling for the protection of what is so special here and to lend it material substance by getting involved in a project that embraced the principles of sustainable tourism, and provided much-needed local employment."
"Why don't you come over?" – Gandul, Webstyler and GMP campaign
"Why don't you come over?" was the Romanian media's response to scare stories in the British tabloids suggesting that January 1 2014 would herald a Romanian and Bulgarian invasion of the UK once employment restrictions were lifted. Local company GMP Advertising and online daily Gandul.info came up with a campaign that, playing on how "awful" the UK is supposed to be, invited Brits to come to Romania, with tongue-in-cheek references to such assets as cheap beer. The campaign received coverage in over 100 news outlets, among them the BBC, Reuters, Washington Post and Huffington Post.
The BBC wrote, "A Romanian media campaign called 'Why don't you come over?' is poking fun at British anxiety about a possible influx of Romanian job-seekers next year", while Buzzfeed, the online platform for marcomm professionals, commented that it was "a perfect response to negative comments about Romanian immigration by the British government".
273 Reasons to Visit Romania
A Facebook page promoting the beautiful parts of Romania managed to reach over 400,000 fans in 2013, thanks to the efforts of the project's creator, Magda Savuica, who periodically receives offers from public institutions to promote their campaigns, because, she says, "We are close to people and trustworthy."
Project 273 started from a personal passion for lesser known places in Romania. Over the years, Savuica wrote in a notebook the different places that she wanted to see in Romania, most of them discovered from novels, her travels or friends' stories. She later uploaded an album on Facebook, sharing her suggestions with friends who enjoy travel.
"Romania is the place where I was 'destined' to be born," says Savuica. "Gradually, growing up, I found things in the country that seemed like they had been a part of me for so long: traditions, the rural life, the history, beautiful people and their stories, the beautiful places you can see everywhere, the mountains. Every place was a part of me waiting to be discovered."
Bio Romania Association
A local non-profit, non-governmental, apolitical and independent legal entity, Bio Romania Association advocates for the sustainable development of agriculture and rural areas, as well as education, information and consumer awareness of the benefits of organic farming for both human and environmental health, by promoting the consumption of certified organic foods. On the short term, the association is campaigning to create favorable economic conditions for Romania's organic farmers, replicating the help given to organic farmers by other EU states. Marian Cioceanu, president of the association, says that the Ministry of Agriculture and Rural Development provides great support for his association, with the latest assistance coming at the Nuremberg BioFach trade fair[D2] , where Romania was named the Year's Country of Trade, impressing participants, German officials, EU officials and organizers.