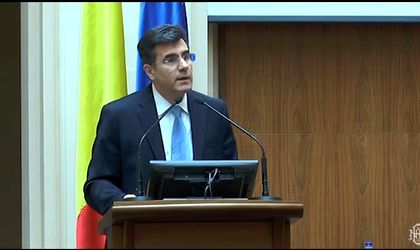 Lucian Croitoru, the counselor of Romania's central bank governor Mugur Isarescu, said in an opinion piece that the passing to pay bill will receive a massive vote in the Chamber of Deputies, and will be enacted in a law. However, the official criticized the bill.
Croitoru says the concepts of free markets and contracts will be "tarnished", once this bill will be enforced. He added that banks may turn against the state, and seek justice in international courts.
"We are about to approve the passing to pay law. I am convinced it will get passed the Chamber of Deputies with a 100 percent vote, just like in the Senate. A law which should have never been adopted in any way. It represents the maximum despise against the market and contract, and not lastly, against the people and the future, because nobody will ever believe, from now on, that somebody guarantees the compliance regarding contracts.
This law is more harmful than the direct redistribution from the budget. The direct redistribution from the budget does not have the secondary effects mentioned beforehand regarding the market and the faith in private contracts and property. The passing to pay law is, possibly, a precursor of future adverse laws. For instance, of some laws for the nationalization of certain enterprises that were privatized based on contracts. Privatization contracts, which could be changed through a law voted in unanimity in Parliament, even though those contract, such as mortgage loans, do not breach any law.
Democracy means respecting the will of the majority, even more if the vote in the Chamber of Deputies will be unanimous. Banks will respect the law, but will win in international courts the cases brought forward against the Romanian state. This is why this law is unfair for the majority of people, because, in the end, we will all pay from the state budget, the damages that banks will ask in international courts for the breaching of private contracts", said Croitoru in a piece published by news portal HotNews.ro
Croitoru mentioned his opinion does not represent that of the BNR.
Ovidiu Posirca