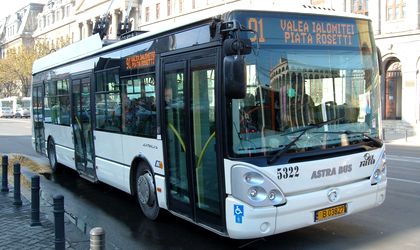 After a brush with crime, Debbie Stowe reflects on expats' feelings of safety in Bucharest.
One of the attractions expats cite about Bucharest that frequently surprises Romanians is its safety. Here I wander in the park at night; in the UK I wouldn't enter a park after dusk, for fear of cider-drinking teenagers, perverts and muggers. A night out in a typical British town can require the negotiation of hordes of drunken revelers, of whom I was once one; now it looks like carnage. (It's a paradox that while alcohol seems more embedded in daily life here – on sale in cinemas and McDonald's, and featuring in folk songs – obvious intoxication is more apparent in the UK.)
In the wake of terrorist atrocities such as the 7/7 bombings in London, it's reassuring to think that the Bucharest metro is probably not a top al-Qaeda target. An officer who escorted me to work amid street closures for the NATO conference told me he worked in anti-terrorism. "Does Romania have terrorism?" I asked. "No," he admitted. My mother was once alarmed at the TV headline, "Massive Attack in Bucharest". But it was about music, not a massacre.
So snug in my sense of security, I was taken aback last week when, on the 66 bus, a 50-something man produced a knife and started lunging back and forth at other passengers. As most public transport users know, disturbed or destitute bus riders are not uncommon. However, they are not usually armed.
The unfortunate chap receiving the majority of the knifeman's blade-brandishing attentions was heeding the number one rule when faced with weirdness on public transport and doing his best to ignore it. One by one the other passengers edged to the exit by the driver, until we were grouped tightly, mutual human shields.
After an interminable period, the bus reached a stop and we flooded off. A well-built man alerted the driver to the incident, before taking matters into his own hands and literally throwing the knifeman off the bus so that he collapsed in a heap in the gutter. The passengers waiting at the stop, having witnessed only a young, robust man forcibly ejecting an elderly man from the vehicle, set about helping him up.
As I went on my way, by foot, I replayed the incident with various alternative endings, which ranged from me using the darts in my pocket (I was en route to a match) to subdue the threat, John McClane style, to my briefly ending up as a minor news item on the BBC website that you see sometimes when British expats meet their demise abroad.
But while it was unnerving, I don't feel any more imperiled in Bucharest or on its buses. It mainly underlined the need for mental health outreach services, so individuals with untreated conditions can get help. If anything, its rarity was a reminder of how safe Bucharest otherwise feels. While any place has its violence, the streets of the capital seem free from the worst of serious crime, from the bus upward.
And this is not an Eastern European phenomenon: in Bulgaria, high-level hits are more common. Perhaps this partly comes down to the difficulty of getting things done here: it's hard enough to sort out your taxes, never mind commission an assassination. As one businessman put it to me, "There is no organized crime in Romania – Romania is too disorganized."
 Debbie Stowe