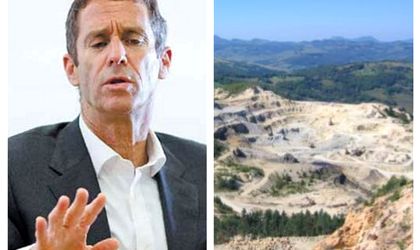 Israeli billionaire Benjamin "Beny" Steinmetz is wanted by Romania's National Anticorruption Directorate, in a case involving the illegal restitution of a forest near Bucharest.
Prosecutors want to put Steinmetz in preventive arrest alongside three other businessmen involved in the same case – Tal Silberstien (who was hired in the past as political consultant in Romania), Shimon Shevez and Moshe Agavi.
Steinmetz has become famous in Romania due to his involvement in the Rosia Montana mining project. His companies hold stakes in Gabriel Resources, the firm that wanted to build a massive gold and silver mine in western Romania.
BSG Capital, which is controlled by the billionaire, had a 16 percent stake in Gabriel Resources, according to data as of March 2015 that are posted on the firm's website.
Rosia Montana Gold Corporation had secured a mining license close to 20 years ago. In 2013, the government attempted to push the project for approval in Parliament, but it has remained stuck. Some amendments to the mining legislation were rejected so last year the company has started an arbitration case against Romania at the International Centre for Settlement of Investment Disputes.
"Gabriel continues to seek engagement at a senior level with the Romanian Authorities in order to resolve the Dispute amicably," said the company in a financial report for the third quarter of 2015.
Meanwhile, Steinmetz is accused in Romania of setting up a criminal group, complicity in influence peddling and abetting money laundering, together with Shevez.
Prosecutors said that the businessmen, alongside Remus Truica, have helped Al României Paul Philippe to file an illegal claim for his fortune in Romania starting 2006. In exchange, Prince Paul had promised the group a cut of 50 percent to 80 percent from what he got in restitution from the state.
The DNA alleges that the businessmen gave money and other goods to public sector workers in institutions that would allow this deal to take place.
"Since its creation, the group members were permanently involved in the criminal activity talked to each other regarding the outcome, establishing their strategy and the most economically viable solutions," said the prosecutors in a statement.
The DNA is investigating the restitution of 47 hectares of forest in Snagov, a locality where mansions have popped up everywhere in the last two decades.
The businessmen are already prosecuted and the DNA has asked a court in Brasov for their arrest in absence.
Ovidiu Posirca