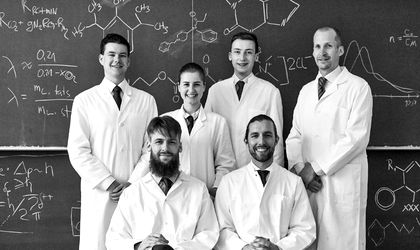 Bringing the government, universities and the private sector together has proved to be the right way to nurture high-tech start-ups in the German capital.
Simona Bazavan
Berlin has been a start-up success story in the making for years. All the right ingredients seem to be in place. There is the dynamic, creative and open environment and numerous universities bringing in students from all around the world with tuition-free education. There are also numerous public and private initiatives meant to retain as many of these talents in the city as possible and get them to join the ranks of the city's growing start-up community. Perhaps more important that anything, there is an overall agreement that innovative start-ups are the way forward and that bringing together the government, private sector and universities is key to creating coherent support schemes. Not surprisingly, all this has been shaping up into a well-structured and maturing start-up ecosystem that produced one start-up every 20 minutes in 2015, according to official data. Many of these are validated by investors. Berlin's start-ups alone collected a whopping EUR 2.4 billion in venture capital last year alone, according to EY data.
One of the most recent additions to the city's start-up scene is Cellbricks, a Berlin-based company that creates and distributes bioprinters that print "mini-organs" and physiological human tissue. Speaking to BR in Berlin in October, founder and owner Lutz Kloke says he got the idea for the company while researching various 3D bioprinters for his PhD thesis at the Technical University of Berlin (TU Berlin). How did he manage to turn a PhD thesis into a running company in just two years? The first step was to present his idea to the university's Centre for Entrepreneurship, something of a one-stop shop for students considering a career as technology entrepreneurs.
Here they get everything from courses and workshops on how to set up a company, obtain venture capital and win government grants, to access to prototyping labs and co-working spaces. Mentoring students on how to turn ideas into sellable products and enabling their contact with business angels, venture capitalists, potential business partners and services providers have been key to turning the center into a hotspot for entrepreneurship, Jan Kratzer, chair for entrepreneurship and innovation at TU Berlin, told reporters in Berlin this October.
All for one
Alongside the involvement of the private sector, the government's contribution has been critical. Its flagship program for supporting tech-oriented start-ups, called Exist, focuses on finding entrepreneurs from the ranks of university students and researchers. They can even be foreigners as long as they study in a German university. The Exist Business Start-up Grant provides support to technology-oriented start-ups in the form of grants for the development of an idea for a product or service and business plan right before company launch. The funding is offered in the form of a grant for a period of up to one year. Individual applicants or teams of up to three members can receive between EUR 1,000 for undergraduates and EUR 3,000 for PhD graduates per month. The program even considers parents by offering an extra EUR 100/month for each child. In addition to this, applicants also receive up to EUR 30,000 for material expenses and EUR 5,000 for start-up related coaching.
The application process for funding through this program consists of a summary report outlining the business idea, submitted by the university or research institute. Besides that, the university also has to designate a mentor who commits to providing specialist advice for the applicant as well as providing its wannabe entrepreneurs with the relevant infrastructure for one year. Applications are assessed by a government-associated agency that relies on tech specialists to provide relevant feedback on the projects considered for financing.
More funds are made available through the Exist Transfer of Research program which targets high-technology start-ups with intensive development periods. The drawing up of a business plan setting out how the future product or service will be brought to market and preparations for the development of business activities are also eligible for funding through the program. Successful applicants receive in the first phase money to cover their staff expenses and up to EUR 250,000 for material expenses that include other equipment, research, property rights and coaching. As much as EUR 180,000 is made available in the second phase.
The Exist program was vital to carry out research, build a prototype and finally turn his idea into a running company, Kloke told BR. All in all, it took him around six months to apply and secure around EUR 500,000 to kick-start his company. Looking back on the early days, he remembers how founding his company was the most daunting step, especially as going to the bank was not an option. "I mean, look at me: I am a long-haired, bearded guy and I'm going there telling them that I need half a million euros because I want to print organs! Yes, I come from the university, I have done my PhD and I have built some prototypes, but that is all I have. If you enter a bank with that alone, you won't get any money. So I am quite happy that TU Berlin has this program and I'm happy about this Exist program in Germany," he outlined. Securing money from a business angel was not an option either in those early days. "Investment in Germany is pretty different from the Anglo-American type of investment because in the US, for example, they take the risk to invest even if all you present is a vision. If I go to a business angel in Germany and I tell them that I have a vision and I want to print organs, they would say that this is a good idea but that I have to prove that I have traction. I would have to show some revenues. Yet, the moment I reach the point where I have revenues I would no longer need their investment," pointed out Kloke.
It is precisely this gap that the Exist program is meant to fill, say representatives of the Federal Ministry for Economic Affairs and Energy. And the program has managed to achieve that target. With the help of Exist and by getting the private sector on board, TU Berlin has become something of a hotspot for innovative entrepreneurship. The numbers speak for themselves. By 2015, 253 companies had already been founded by TU Berlin alumni, accounting for more than 18,000 employees and close to EUR 2.6 billion in total turnover. The center can take pride in a 70 percent survival rate for the start-ups it has supported so far. In 2015 alone, TU Berlin's center for entrepreneurship supported the setting up of 39 new start-ups, out of which 26 were high-tech initiatives. The same year it secured more than EUR 3 million in pre-seed grants as part of the two Exist programs.
Some two years after having started working on his idea, Kloke says the newly funded start-up is already generating revenue and he estimates Cellbricks will reach break-even in two years' time. So far, clients include academia and small research organizations. Using 3D printed micro-organs can save a pharma company millions in the early phase of developing a new drug so the entrepreneur is confident there is plenty of potential to grow his business. To take his company even further he is now planning to apply for a loan from KfW, a government-owned development bank that is the first option for many start-ups in Germany.
Should he eventually decide to give venture capital a chance, a potential investor would get a tax-free 20 percent reimbursement of its investment. The measure is meant to support and encourage private investors and business angels in particular to consider innovative start-ups, say ministry representatives.
And this is only one measure on a long and impressive list. There are over 200 various subsidy programs to choose from, cheap loans and even a public venture capital fund. There is the Association of German Chambers of Commerce and Industry (DIHK) offering wannabe entrepreneurs coaching and consulting in more than 200 offices throughout the country and publicly held Investitionsbank Berlin holding an annual trade fair for start-ups and entrepreneurship (deGUT) that dates back to 1982. Add to that numerous other private initiatives such as giants Bayer and Deutsche Telekom investing in their own start-up support programs to name just two of many, and one gets a pretty good idea why Berlin and for that matter Hamburg, Munich or Frankfurt are emerging as start-up hubs.How could Romania possibly replicate at least part of that success? A good starting point would be to understand that innovation is key to future growth and that a coherent strategy is equally vital to any support program. And for that, the government, private sector and universities have to work together.