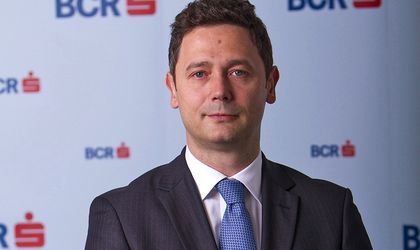 Banca Comerciala Romana, owned by Austrian Erste Group, said it returned in the black last year due to a major reduction of risk costs.
Its net profit reached RON 918.9 million in 2015, bouncing back from a loss of RON 2.8 billion in 2014.
"There are significant unexpected challenges for the local financial sector, not least a heated debate as of how the banking sector should serve the economy. We are determined to seek, together with all the stakeholders the right way to promote a solid development agenda and sustainable access to financial service, anchored in stability, economic growth, as well as adequate protection for social-case debtors," said Sergiu Manea, the CEO of BCR, in a statement.
Manea added that BCR channeled some RON 8 billion worth of new funding in the economy and adjusted the instalment rates for over 30.000 of its customers.
BCR has granted loans in the local currency worth RON 5 billion, registering a 29 percent increase year-on-year of lending under the Prima Casa state-backed mortgage scheme.
In the corporate segment, the volume of new loans grew by RON 3.6 billion, due to a 3.6 percent increase in the SMEs segment.
"New approved loans are substantially picking up, supported by a solid pipeline of better quality new business, particularly in overdraft, working capital and supply chain financing", said the lender.
On retail deposits, the bank registered a 6.8 percent increase to EUR 9.4 billion. BCR said this is the main funding source for the bank, alongside the support it gets from its parent.
BCR has seen a 2 percent hike in net fee income to EUR 163 million, while the net interest income fell by 13 percent to EUR 448.3 million due to an accelerated cut in the portfolio of non-performing loans, "efforts to price competitively in the market and a low interest rate environment".
Expenses were up by 2.6 percent year-on-year to EUR 340.5 million, as the bank has invested in IT infrastructure and in the refurbishment of its branches.
BCR's NPL ratio reached 20.2 percent in 2015, down from 25.7 percent in the previous year, due to by recoveries, sales of selected NPL portfolios and write-offs.
"In terms of net charge of impairments on financial assets not measured at fair value through profit and loss BCR recorded a provision release of RON 72.9 million (EUR 16.4 million) in 2015, versus a negative charge of RON -4,440.0 million (EUR -999.0 million) in 2014, driven by higher recoveries on the basis of improved workout capabilities and macroeconomic environment," said the bank.
The cost-income ratio of BCR reached 49.2 percent in 2015, from 43.5 percent in 2014.
Its solvency ratio stood at 19.6 percent, against the central bank's requirement of 10 percent.
BCR currently has 511 retail units and employs around 7.000 people.
Meanwhile, Erste Group registered a profit of EUR 968.2 million in 2015, from a loss of EUR 1.3 billion in the previous year.
Ovidiu Posirca