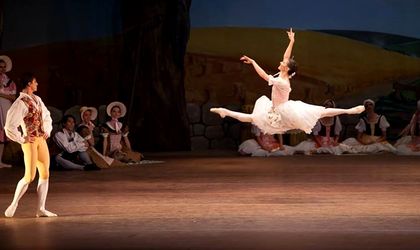 Comic ballet La fille mal gardée (The Wayward Daughter) is the second premiere of the season at the Bucharest National Opera House. Local ballet aficionados will be treated to a turn by Johan Kobborg, artistic director of the Ballet Company, in a travesti role, that of Widow Simone.
By Oana Vasiliu
The staging is the work of Swedish ballet master Malin Thoors and Danish choreographer and former first ballet dancer Kobborg. "This is a show that I have staged many times before over many years, a ballet which I love, and I wanted to stage it in Romania to highlight the qualities of the dancers before the public," said Kobborg. "La fille mal gardée is one of those performances where the public leaves with big smiles on their faces, a quality that not all ballets have. Although we are talking about a comic ballet, the audience doesn't always smile, which is why this production has something for every viewer. It's a family show, especially for the young generations."
On the night of the premiere, Alina Cojocaru was the main character of the ballet, Lise, a role that will be interpreted by Bucharest's National Opera prima ballerina, Bianca Fota, in the following performances.
La fille mal gardée is one of the most acclaimed works of British dancer and choreographer Frederick Ashton, inspired by his love of the countryside in Suffolk, Great Britain. Royal Opera House Ballet officials note, "La Fille displays some of Ashton's most virtuoso choreography – the youthful passion of Lise and her lover, Colas, is expressed in a series of energetic pas de deux. The ballet is laced with good humor and a whirl of dancing chickens, grouchy guardians and a halfwit suitor take to the stage. Ashton affectionately incorporated elements of national folk dance into his choreography, from a Lancashire clog dance to a maypole dance, making La Fille mal gardée (despite its title) The Royal Ballet's most emphatically English work."
The ballet, which is in two acts and three scenes, and based on the 1789 painting of the same name by Jean Bercher Dauberval, is staged by Thoors and Kobborg, under the wand of Ciprian Teodorascu. It tells the story of Lise and Colas, who are in love and want to marry. But Lisa's mother, Widow Simone, has her own ideas about who her daughter should wed. Thomas, a pompous and wealthy vineyard owner and his son Alain, are among the characters trying to meet their heart's desires.
Next performances are scheduled on December 14, December 19 and December 21, and January 4, 11, 14 and 30. Tickets and more information are available here.
Photo courtesy of Bucharest National Opera House