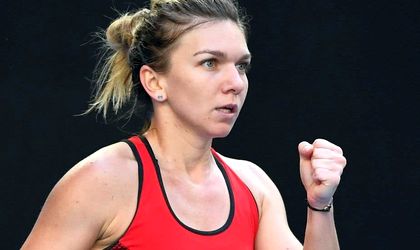 The last point of what has been an enthralling final of the Australian Open, the first Grand Slam of the year, has fallen on the wrong side of the net for Romanian tennis player Simona Halep. She bowed in three sets to Denmark's Caroline Wozniacki, No. 2 in the world, 6-7,6-3, 4-6.
"You are extraordinary role models for girls watching around the world," the two finalists were told on court upon being introduced.
In her hard-fought campaign for the first Grand Slam title of her career, Simona Halep has overcome an ankle injury sustained in the first round as well as survived match points in two of her matches, against Lauren Davis and Angelique Kerber. In doing so, she has won appraisal from many sports experts for her resilience, fighting spirit and technical abilities.
"It's not easy to talk now but first I want to congratulate Caroline, she played amazing. It's been a great tournament for me. I started not very well with an ankle injury, but I just wanted to give my best every match, which I did," Halep said after the match.
"Of course I'm sad I couldn't win today, but Caroline was better than me. But of course I'll fight, and I have many years to go so hopefully I will face another challenge like I did today. Thankyou guys for supporting me every day in this tournament. It's always nice to play in front of you and hopefully I'll see you next year, in the same position."
"I hope next time will be fourth time lucky," Halep joked at the end of her on-court speech. The Romanian will drop to No 2 in the world.
"It is a dream come true," said Caroline Wozniacki in her post-match speech, who lifted the trophy and won her maiden Grand Slam title and will become No.1 on Monday, five years after holding the title.
"I'm just taking a second here to hug Daphne. To be here today is a dream come true. It's a very emotional moment. The fans have been incredible all week, thanks everybody for coming out and supporting us. It's been an incredible two weeks. Thankyou. I also want to congratulate Simona. I know today is a tough day. I'm sorry that I had to win, but I'm sure we'll have many matches in the future. It was an incredible match, an incredible fight, and again I'm sorry. I also want to thank my fiancee (NBA ace David Lee). I was a nervous wreck this morning but you managed to calm me down," Woziacki said in her trophy acceptance speech.