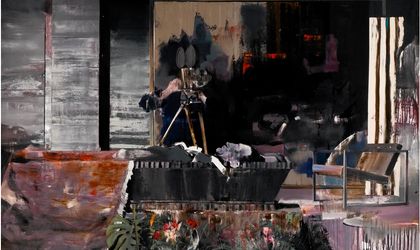 Romanian artist Adrian Ghenie sold three paintings for a total of GBP 1.2 million during a recent auction in London, at Sotheby's auction house which took place on October 17. His artwork Duchamp's Funeral I was sold for GBP 1,022,500, double as the pre-auction evaluation. "Adrian Ghenie's Duchamp's Funeral I is an extraordinary painting that deals with the artist's most important engagement: Marcel Duchamp and Dada. Embodying an existential obsession for the artist, allusions to the father of post-modernism saturate his oeuvre, appearing in such works as the immersive installation The Dada Room (2010), Dada is Dead (2009) as well as in a painting of Duchamp's notorious work, Fountain (1917). Standing at the very apex of this concern, the present work is the unmitigated masterpiece, and perhaps can be considered the artist's greatest work to date", is the catalogue description of this work of art, provided by Sotheby's. The paining is oil on canvas 200 by 300cm.; 78 3/4 by 118 1/8 in.
The other two paintings sold by the Romanian were Study for The Devil, sold for GBP 12.500  and Hunger, sold for GBP 116.500.
The painting "The Fake Rothko" designed by the Romanian artist Adrian Ghenie, who is considered one of the most famous contemporary artists worldwide, was sold on July 1, with GDP 1.426.500 in an auction organized by the prestigious Sotheby auction house, in London, UK.
The estimated value of Ghenie's painting was between GDP 250,000 to 350,000 and was considered a surprise, but set a new record for the artist at auction.
Photo courtesy of Sotheby's auction house
Oana Vasiliu