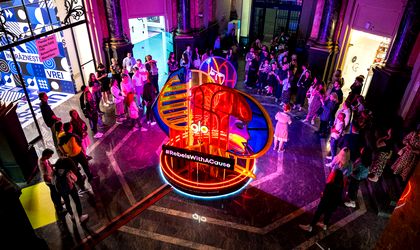 The biggest art event in Romania is here to stay until August 7, in a brand new format, with diverse experiences meant to immerse visitors in artists' universe and offer more context. From themed guided tours by day (in Romanian, English and French) to Night Tours with live music and prosecco, choose one that best suits you and discover the five art exhibitions in the gorgeous Dacia-Romania Palace, situated in the old city (18-20 Lipscani Street).
"If classical art is most often easier to understand for everyone – be it a landscape, still life, war scenes, or the portrait of a beautiful woman – contemporary art could be more encrypted. And here comes the role of a guide which takes care to decipher and make the artist's universe more accessible to general public. What does the color yellow mean for Irina Dragomir, the superstar of Romanian contemporary art that signs an entire exhibition now in Art Safari? What do these wings created from an unusual material symbolize? Offering this kind of context, revealing the universe of the artist, the guide actually gives you the key to decipher the exhibition on your own note, come with your own interpretation", says Ioana Ciocan, General Manager of Art Safari. Her advice for both art lovers and connoisseurs is to choose a guided tour for their first visit here and return alone at least once for a deep understanding and a complete visiting experience. Fortunately, Art Safari is accesible for both tourists and expats, through guided tours in English and French.
Another good part of these tours: you can choose a favourite theme. From a tour dedicated to a specific exhibition in Art Safari to one that presents the highlights of this edition in terms of market records. If you want to see 350K EUR in a frame, choose this tour that will also challenge an interesting discussion about art and money. Can one put a price on art? As for the classic art star Aman, organizers dedicate 4 tours to the famous Romanian artist: an overview of the 155 artworks present in Art Safari, the gardens of Aman, the flowers of Aman and also "The Influencers and Instagram of Aman" in a time when none of these 2 concepts even existed. Art Safari gives visitors the opportunity to see and understand artworks, the ideas behind every piece of art, their creator.
This experience can be described as fun, educational and eye-catchy for the visitors. It can be something to enjoy with friends or colleagues after hours or with your family on weekends, but also a way to educate yourself in the art industry and art history. Special effects and scenery are valued with a good story, a piece of history.
10 themed guided tours at Art Safari – 9th edition
Guided tours for all 5 exhibitions of Art Safari
Discover the retrospective of the first great master of Romanian painting – Theodor Aman, the exhibition with graphic art by Pablo Picasso and Salvador Dali, created for the magnificent ballet by Manuel de Falla, the "Red, Yellow and Blue" show by the superstar of contemporary Romanian art, Irina Dragomir, a photography exhibition by the famous German photojournalist Barbara Klemm, which includes photographs from communist Romania and an exhibition dedicated to Marcel Iancu, with both paintings and architecture.
Theodor Aman overview
155 works (paintings and graphic art) borrowed from museums all over the country and also from private collections are exhibited in the Museum Pavilion. Aman's works capture the lifestyle of the Romanian social and cultural elite of the 19th century, describing personalities of the time, social events, historical events or simply beautiful women.
The Gardens of Aman
This personalized tour dedicated to the creation of Theodor Aman describes an authentic "dolce far niente" of the 19th century: gardens in warm tones, the harmony of light and details captured in the tranquility of nature.
Theodor Aman's Flowers
After Aman built his house-art studio in 1869, the house's garden became a fascinating motif for the painter(large at that time, full of trees, shrubs, flower buds and ornamental plants). This tour is set to capture the painter's fascination for details and the importance he gave to the little things that made his creations great.
Influencers and Instagram in Aman's times
Before Social Media era, the daily life was captured in a different way by artists. This tour shows how Theodor Aman viewed the lifestyle of Romanian's elite, both social and cultural. This exhibition is about historical events, beautiful women and life before technology.
Barbara Klemm
Discover pictures from Western and Eastern Germany before unification along with a series of photos taken in Romania during the communism. Barbara Klemm, one of Germany's most important photographers, has her own exhibition in Art Safari, where the black-and-white artwork shows a divided and reunified Germany, pictures that became "symbols of contemporary history." From famous political faces to ordinary people on the street, you can see them all in this guided tour.
Market records for Art Safari's 9th edition
This tour presents art from an economic point of view, showing the visitors how a 350,000 Euro work of art looks like, why it is so valuable and answers the question "Can art have a price?".
Irina Dragomir
A sight in the Contemporary Pavilion "Red, Yellow and Blue" can be shown in this tour. Irina Dragomir is one of the most appreciated voices in contemporary art in Bucharest and has her first solo exhibition, curated by her teacher, Alexandru Rădvan.
Marcel Iancu
Marcel Iancu was an artist defined by the avant-garde style he created in Romania and Israel, bringing it in line with the Western Art. This tour is dedicated to his work in the twentieth century and comprises also a view of Iancu's architecture.
Pablo Picasso and Salvador Dali
Starting from the ballet The Three-Corner Hat, this tour takes the visitors back to 1919, when the show had its premiere at Alhambra Theater in London and inspired Picasso to publish a body of artworks called after the ballet's name. Dali followed Picasso and came with his own version years later. These two publications are shown together at Art Safari 2022.
For a nocturnal, cool experience, Art Safari brings out Night Tours – guided tours, a glass of bubbly, live music, evening outfits and networking. The guided tours are priced for 99 lei each and can be bought from the event's site. Children have their own Art safari – Art Safari Kids, a program of personalized tours and art workshops.