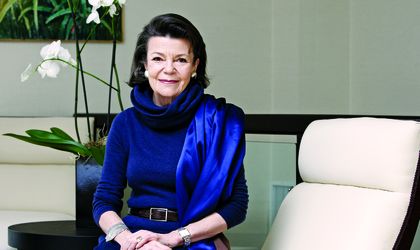 Contemporary artists together with art collectors are set to donate a host of art pieces to support the cause of disadvantaged children at the Art for Children charity event, initiated by princess Marina Sturdza. Conceived as a series of cultural events that will culminate with an  art auction, the project Art for Children brings together for the first time the most important contemporary Romanian artists to support the cause of disadvantaged children in Romania, with the support of UNICEF and the National Bank of Romania, as well as Artmark, which will organize the charitable auction on May 28 (by invitation only).
According to Alexandru Baldea, co-founder of Artmark, the works in the auction belong to both established artists such as Nicolae Tonitza, Camil Ressu, Theodor Pallady, Stefan Luchian but also to Romanian contemporary artists.
Art for Children is designed as a two-year long event in which Romanian artists are encouraged to create and donate artworks for disadvantaged children, thus contributing to raise funds for long-term programs. The project will support the most important programs of child protection, education and vocational projects, but will also contribute to projects to promote prevention and early institutionalization of children, training and monitoring cases.
This year's theme is "Abandonment." Official statistics show that in 2013 a number of 1449 new-born children are left in the maternity wards across the country. Romania has almost 8,500 under-aged mothers and 60,000 children are institutionalized.
As part of the same Art for Children project, five one-minute films on the theme will be screened. The directors commissioned for this project are Radu Jude, Anca Damian, Cătălin Leescu, Olivia Căciuleanu and Bogdan Dumitrescu.
The screening of these movies is scheduled for May 8, from 18.30, at the Central University Library.
More about this project in the Business Review printed edition.
Photo courtesy of Art for Children project / All photos represent art pieces available on auction on May 28.
Oana Vasiliu