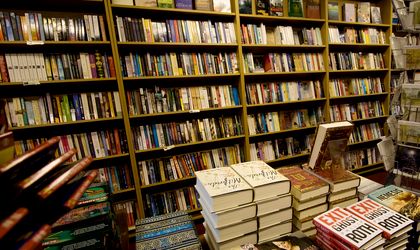 The National Statistics Institute has recently published a study for the third quarter of 2015 explaining that the total monthly average income per household was of RON 2,713 and the total monthly average expenditure per household was of RON 2,351. Out of this sum, Romanians are allocating only 0.2 percent for education, while 5.9 percent is redirected towards recreation and culture. Without doing the math but taking these concerning statistics into consideration, BR talked to the biggest Romanian publishing houses to find out what, and if, Romanians are still reading.
Oana Vasiliu 
"In 2014, the total turnover for 64 of the most important Romanian publishing houses was EUR 55,489,430, data offered by the Ministry of Finance," noted Forbes Romania in an article from June 2015. "For this market, the net profit was EUR 7,458,043", calculated by the same publication. What's not presented in the financial report given by the publishing houses to the Ministry of Finance is the waiting time for receiving their money from the distributors, which either sell or don't sell the books they receive, thus leading to major delays in payments. Also, we have to take into consideration the VAT, which has been reduced in 2016 from 9 percent to 5 percent, the other taxes and in some cases the copyright taxes for foreign writers, not to mention the advertising and marketing budget for a book launching, and this will lead us to a correct price of a book in Romania. But are we still buying books?
The National Institute for Cultural Research and Training publishes from time to time the Cultural Consumer Barometer, which shows facts about consumer's behavior. The latest study dates from 2014 and presents some interesting data: 36 percent of respondents don't read any books. Still, those respondents from 18 to 34 years old who are reading books monthly is 34 percent, while 42 percent of them are reading scientific literature, and numbers have increased since the last barometer, which took place in 2012. Also, the study shows that in urban areas people read a book a month (48 percent of the respondents,) while in the rural areas they read none. TV (98 percent), books (50 percent), music (90 percent) and magazines (55 percent) are in the top preferences for domestic cultural consumption, reveals the same study.
This situation being the big picture, BR tried to figure out what's actually happening on the local book market. Probably the best places to launch a book and to sell a significant part of the stock are the two national and major book fairs, Gaudeamus and Bookfest, one is held in summer and the other one in autumn. In just a few days, thousands and thousands of events take place, so what should be a paradise for bookworms is transformed into a time-crunch hunting season for meeting the authors, buying cheap or discounted books, going to book launches and participating in debates. For instance, in 2015, Gaudeamus had over 300 exhibitors and over 700 events, while the fair was visited by over 120,000 book lovers, who bought at least one book. Some publishing houses have sold over 15,000 copies at these events, notes the national press.
Top players's book offer
In 2015, Polirom publishing house released 475 titles, out of which the top three positions are dominated by Romanian authors, who, surprisingly, are not full-time writers. Ex-politician Adriana Saftoiu and her book Cotroceni Chronics / Cronica de Cotroceni is on top, followed by musician Tudor Chirila's book Equilibrium Exercise / Excrete de echilibru and George Orwell's 1984. Curtea Romaneasca Publishing House, which is part of the same editorial group as Polirom, sold mostly in 2015 The Photograph of the Royal Court / Fotograful Curtii Regale, signed by Simona Antonescu, America over pogrom / America de peste pogrom (Catalin Mihuleac) and The virtue road. The dog's book / Soseaua virtutii. Cartea ciinelui (Cristian Teodorescu).
"Over 620 titles, meaning 2,347,456 copies have been published in 2015, while the turnover was approximately EUR 10 million," said Marin Vidrascu, executive director of Litera Publishing House, for Business Review. In terms of best-sellers, Donna Tartt's The Goldfinch / Sticletele was on top, while The book of life / Cartea vietii by Deborah Harkness and Sylvia Day's Fascination / Fascinatia followed the top. In non-fiction, the adult coloring books designed by illustrator Johanna Basford were the publishing house's best sellers. "For 2016, Litera will print Svetlana Alexievici, Nobel Prize winner for 2015 and Marlon James, Man Booker 2015, as well as other coloring books for adults", added Vidrascu.
Last year, Humanitas Publishing House released 125 new titles and 165 re-edited books, while Humanitas Fiction published 45 new imprints and 80 re-edited items. Romanian writers Lucian Boia, Radu Paraschivescu and Dan Alexe were on top in 2015, while Michel Houellebecq, Eric-Emmanuel Schmitt and Isabel Allende were best sellers for Humanitas Fiction. An interesting figure given to Business Review by Humanitas representatives is 6,000, which represents the number of copies sold for Mircea Cartarescu's latest book, Solenoid, released less than a month ago.
Nemira Publishing House finished 2015 with over 100 new titles and 16 re-edited imprints. The best-selling books of the publisher were George R.R.Martin's A Knight of the Seven Kingdoms / Cavalerul celor sapte regate, Kass Morgan's The 100 / Cei 100 and Stephen King's Mr. Mercedes. Bear Grylls, Andrei Tarkovski and Andrew Marr were top hits for the nonfiction series.
In 2015, Curtea Veche Publishing edited 58 new books and 124 republications. Their top fiction books were Ten times on the lips / De zece ori pe buze by Adina Rosetti, Letter Book / Scrisorar by Mihail Siskin and The stories of the Queen Marry, written by the Queen herself. As non-fiction, the bestseller of the year was President Klaus Johannis' book, Step by step / Pas cu pas. "In 2016, we will launch a large variety of books and we will continue the education programs we started in the past. At the beginning of the year, our focus will be on children's books, preparing for parents a nutrition book as well as continuing the royal series for children", said Curtea Veche representatives to Business Review.