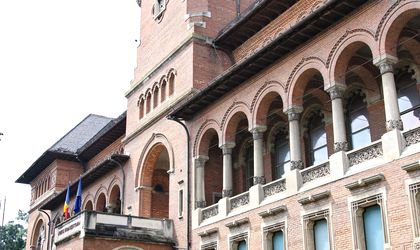 BR intends to keep up to date with everything that's happening in the Bucharest art scene.
Facelook – Florica Prevenda
Curator: Aurelia Mocanu
Opening: April 2, 19.00, at Ann Art Gallery
Until May 30
Florica Prevenda exhibits for the first in Romania, being known worldwide as an atypical Romanian contemporary artist. She already exposed her works in Amsterdam, Brussels, Milan, Rotterdam, Barcelona, Krakow, Provence, Verona, London, Tel Aviv or New York. In 2005, Prevenda received "Cultural Credit" in the rank of Knight, distinction given by the President of Romania.
The works exhibited at AnnArt are part of Facebook Obsession series consisting of collage-paintings, objects-assemblage of unconventional materials, introducing the faces and human figures, alternating with the omnipresent symbols of social networks that inspired exhibition purposes.
The Victim – Marian Zidaru
"The main thing is not setting foot outside the workshop and diligently chasing the vein you've uncovered. When I was young, i was interested in form, now I'm interested in concept. But my theme has remained the same – 'spiritual purity'. That's how I ended up with mystical romanticism.", writes Marian Zidaru about his exhibition. (photo courtesy of Modernism.ro)
nothing op. 2 – Anca Mureșan and Ion Grigorescu
Until April 18
Anca Mureșan and Ion Grigorescu, facing one another, on either side of the unfolding matters, begin a dialogue: the year is 2013. Their outlooks crisscross fractiously, taking turns, as balance and sword. Each of them has an experience to manage and limits to strengthen. What brings them together is nothingness vs. forgetfulness as history is about to enter into consciousness.
The forest's rustling – Anamirela Anghel
National Village Museum Dimitrie Gusti
Opening: April 3, 16.00
Until May 4
In 2005, Anamirela Anghel opened her own workshop of painting and graphics, executing works in charcoal, watercolor, acrylic on canvas, pastel and glass icons.  She also exhibited at the National Military Museum, the Metropolitan Library of Bucharest, and also collective exhibitions in Bucharest and nationwide.
The Romania's antique gold and silver
Until April 23
Over one thousand archeological pieces worked in gold and silver and discovered on the Romanian territory are temporary exhibited at the National History Museum. The historical period of these exhibits are situated between Neo-Eneolithic and Late Antiquity (the fifth millennium B.C. – VII century A.C.).
Otto Dix
The National Museum of Art of Romania
Until May 25
The National Museum of Art of Romania presents Otto Dix's prints from 1920 -1924 period, in a temporary exhibition called "A world in ruins". The exhibition is part of the series of events organised within the "1914-2014" program, marking the centenary of the First World War.
The exhibition presents the series of 50 prints entitled The War (Der Krieg), a result of the traumatizing experience Otto Dix had on the battlefield during the First World War. This experience haunted him all his life, having a strong impact on his creation.
Imagining the Balkans
The National History Museum
Until April 27
This exhibit, part of UNESCO's global initiative "Culture: a Bridge to Development", seeks to enhance cooperation and dialogue among national history museums. It focuses on the constitution and evolution of modern nations in South-East Europe during the "long 19th century", and is structured around  8 thematic paths: Living in the old world; Travelling, communicating; A new social order: the rise of the middle classes; Creating and diffusing knowledge; Mapping; Using history, making heroes; Public celebrations; and, Images of the Nation.
This is the very first time that national history museums from South-East Europe and beyond – Albania, Bosnia and Herzegovina, Bulgaria, Croatia, Cyprus, Germany, Greece, Montenegro, Romania, Serbia, Slovenia and The former Yugoslav Republic of Macedonia – come together to put in perspective and compare their collections and their national histories. The exhibit is produced with the belief that Nations and their History need not be just a matter of division, and developed as a historic opportunity to place national histories in a global context, compare disputed narratives, revive shared memories. The historical advisor of the exhibit is Maria Todorova, professor at the University of Illinois, Urbana-Champaign, United States of America.
Image. Archive.
The National Contemporary Art Museum
Until May 11
MNAC puts on display the inactive part of its collection of negatives as part of a curatorial discourse that tries to juxtapose two different hypostases of the exhibited visual documents: on one hand, the "primary material" un-organized and un-classified, but for this reason producer of potential meanings (metal cabinets full with boxes that contain glass and film clichés) and, on the other hand, the alternative archives realized by Mihai Oroveanu, subREAL group and Ciprian Mureșan.
Oana Vasiliu