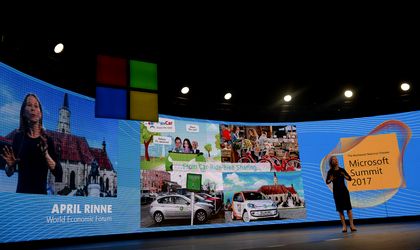 The way we adapt to the sharing economy will determine our success and wellbeing, April Rinne, Young Global Leader at the World Economic Forum told the audience at the sold out Microsoft Summit in Bucharest. In her speech, she described the way the sharing economy works, using examples of businesses that have made it at a global level, as well as good practices for a successful business based on the concept of the sharing economy.
According to Rinne, the sharing economy is based on three pillars. Firstly, a company whose business model is based on the sharing economy owns no inventory. Secondly, that company is building a market for a product or service that didn't have one before and bringing it to a global audience. Thirdly, the company is building a community. Finally, that company is spurring new enterprise creation.
Introducing the concept of 'liquid space'
A company that managed to do that in a very successful way is Airbnb, which started in 2008 as an idea of three students who were struggling to pay the rent. At a time, in San Francisco was hosting a convention and accommodation was scarce. According to Rinne, the company grew to host around one million people everyday after spotting a resource that was under-utilised: space.
Space, Rinne argues, is still underused, be it personal or office space. When it comes to the latter, the average office is underused and comes with high maintenance costs. Moreover, we see that increasingly more workers do not have a physical office anymore. But that doesn't necessarily mean they don't need, from time to time, a place to work in. So one must think of a new concept, that of 'liquid space.'
The way public space can be used can also build social value. Think about the idle space available in your community, Rinne said, and of ways of connecting the young, who are high on ideas but low on resources. There are successful models out there that can be replicated, for instance, one where young people aged 16-25 were given the right to use a space in order to start their business ideas. There are such 10,000 sharing economy platforms.
Rethinking transportation
According to Rinne, the future of transportation is Shared, Autonomous and Electric. Curently, transport is very inefficient. A lot of cars have just one people in them. Moreover, the percentage of millennials who are requesting drivers licenses is at an all-time low. That is why, we have peer-to-peer car sharing where you can share or rent your car for the 23 hours a day that you're not using.Also, there are examples of companies that do intercity car sharing, such as blablacar. Romania is blablacar's biggest growing market, Rinne said. According to her, such a company can succeed only when everyone is gaining something. The driver and passenger save money and they are both helping the environment. Similarly, bike sharing is one of the fastest growing markets in the world.
Production, design and innovation
In the past innovation was centralized, leaving a lot of people out. Today, innovation is not something that only companies do, it's available to everyone. By joining platforms such as TechShop, you have access to laser cutters, 3D printers, and more.
You can also share services in a sector you haven't thought of: medical services. Cohealo, for instance, enables doctor-patient relationships, helping healthcare entities open new lines of business. Also, in the process it saves money for both.
For those interested in style, we see that luxury is becoming more available. Rent the Runway, founded in 2008, offers thousands of pieces of fashion and allows you to pay only 10 percent of the purchase price to have access to outfits that you wouldn't routinely afford. It gives greater visibility to fashion designers and at the same time it reduces the waste of the clothes hanging unused in people's closets.
A new way of working
In recent years, almost all aspects of work have changed. We see flexible remote working is becoming more and more widespread and lifelong employment is not the norm anymore. People can work, collaborate and earn income in other ways than they used to do before. The rise of self-employed and freelancers is very steep. Today in the US, 30 percent of workers belong to one of those categories, and in the future the share will be 50 percent. Out of those, 90 percent say they don't want to go back to traditional employment.
Take the example of TaskRabbit, a skills exchange service. Here anyone they can find someone to help them with anything. Here you can find someone to help you with fun tasks, specialised talks, and very unusual ones, such as assembling Ikea furniture. These were things people had to do on their own. TaskRabbit helps you do that and includes a lot of people for whom traditional employment is not an option, such as youth, the elderly, students who have the skills. What happened by TaskRabbit? They were purchased by Ikea. Apply this to all professions, and you have Andela – offering access to top talent from Africa, Flexjobs, Catalant, Pwc, UpWork, Talent Exchange and more.
Alongside, there are great examples of enablers from the insurance field. Trov is rethinking risk management and offering an entirely new way to insure. Rather than a comprehensive insurance now you get one that is customised to your needs and for a very short period of time. This is enabling a more responsible sharing economy, Rinne argues.
What not to do
What are the most common reasons for failure? According to Rinne, many fail to match well supply and demand. Also, thinking you can be a 'sharing everything' platform is wrong. Also, you are set to fail whn you forget about the community. Statistically, 9 out of 10 join a platform for the economic advantages. But also 9 or 10 say they stay for community. Not least, you must keep in mind a policy. Most of the rules int the world today are built for a world of ownership, for someone without a smartphone. Learning how to regulate for innovation is nothing new. In the past, when the cars appeared we did not know what to do. But now we can't imagine the world without it. So innovation must push regulation change, Rinne argues.
The sharing economy has grown, and according to Rinne, some have said that it's not really sharing. It includes many platforms but it also includes 'share washing', something that companies do because it sounds good. None of them is perfect, many overlap but in essence, they're all good.