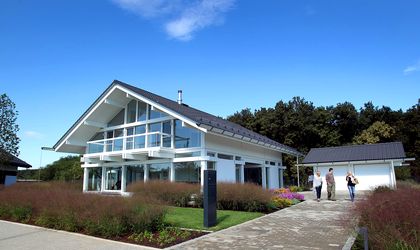 A new residential project is being kick started north of Bucharest some ten years after its owners first bought the land, and is intended to ride the wave of Bucharest's growing segment of premium housing.
Simona Bazavan
Loreco Investments is a new entry on the local real estate market, yet it has recently announced ambitious plans for the years to come. The company is owned by Rey Muraru and Lorna and Colin Jackson, all new names in the local real estate industry but who have been working in the field across the Channel. Romanian Muraru met his partners and worked with them on several residential projects in the UK. Dumbrava Vlasiei, the scheme they have kick started on the local market, is their first project outside the UK.
"We've seen more opportunities for development in Eastern Europe and particularly in Romania. When we first came we felt that we had the necessary experience to put together a project which is competitively attractive in terms of what is happening in Bucharest," said Lorna Jackson.
In 2006 the three bought 90 hectares of land surrounded by forest in Dumbrava Vlasiei, near Balotesti, but actual works on the project started last year. So far the developer has invested EUR 40 million, which went on buying the land and infrastructure and landscaping works for the first development phase.
The company has now set an ambitious target: it wants to sell the first 140 plots of land – meaning about 20 hectares – over the next three years.
Buyers must be willing to pay approximately EUR 150/sqm for the land plots where they can build their own houses as long as these respect the developers' master plan. Another option is to choose from some of the houses already built on the site. Huf Haus, a German manufacturer of high-end prefabricated timber and glass houses, has opened two show houses in the project which are also avail-able for sale for EUR 1.25 million and EUR 3 million, respectively. Next year the developer wants to build another four houses which will be designed by local architects and which will be available for sale for price tags of between EUR 250,000 and EUR 450,000.
Dumbrava Vlasiei should feature another four development phases which will add blocks of flats and retail areas to the gated community, say company representatives. Starting the next phase depends on how sales evolve, said company representatives.
 Fresh momentum for the premium market
Demand for premium housing has been rising in recent years to the point where sales now represent about 5 percent of the entire residential segment, indicate data from consultancy Regatta Real Estate. Buyers are made up of both those looking for a home as well as a growing number of investors for whom buying premium properties is a lucrative alternative to keeping their money in a bank, argue consultants.
Regardless of their profile, buyers are showing a growing interest in the off-plan acquisition of such properties, which come at a hefty price. About 30 percent of the premium properties up for sale in Bucharest have price tags of over EUR 1 million, according to Regatta Real Estate.
The growing demand for premium housing over the past couple of years has thereby put fresh momentum behind new developments. Some 550 new premium apartments are scheduled for delivery in Bucharest in 2016 and 2017, more than double the volume of the previous two years, according to data from real estate services firm DTZ Echinox.