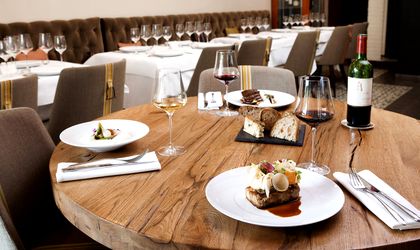 It is a fact that romantic cities never maintain their allure. In the 1920's, poets and dreamers would sigh and say "see Naples and die." One hundred years later, it is a case of "smell  Naples and die." In the same era, romantics would cite Bucharest as "the Paris of the Balkans." However, the communists destroyed all French architecture and denied the population the pleasure of French cuisine. So, if you want to see what Romania has been denied all these years, read on!
I cannot understand why the House calls itself a 'bistro.' A true French bistro is a Parisienne incarnation, serving good home-cooked style food at low prices. Bistros are loud and buzzy, with a clientele of cool, down-dressed  people who think nothing of bringing the whole family – including their pet dogs; the latter being a truly loathsome habit which is tolerated.  They invariably employ the oldest and rudest waiters in France.  Such is charming Gallic eccentricity, take it or leave it!
But the House is not only none of the above, it is entirely the opposite. The place is an oasis of calm and sophistication, as is the clientele, almost all elegantly attired foreigners. As for the menu, it is a total departure from the bistro concept; rather it is top-end French cuisine.
OK, let's check it out.
From the starters, they offered Iberico ham at 95 lei for 50 grams. If this sounds pricey, trust me it is not.  This delicacy is universally recognized as the finest ham in the world, and it is made in Spain from the rare black foot pig which is left to roam free on an exclusive diet of acorns, and nothing else. Its magnificent flavor is so unique that it is beyond description. If you want this treat at home, do as I do and buy direct from the importer Julio Quintanar.
We passed on their oysters which, irrespective of their high quality, were unjustifiably overpriced at RON 20 each. Our House wine was an expensive disappointment. At a large price (RON 35 for average quality,) we got a small portion which barely covered the bottom of the glass. Oh you mean, mean House! But thereafter, things just got better.
They had foie gras terrine. I get bored listening to idiots who think this king of all terrines is overpriced. I love serving it at home to my guests. I buy it raw from Carrefour Orchideea (expensive) and marinate it in Cognac  or Port (expensive) then cook it, losing 20% in the process (expensive,) press and chill for three days (tedious) and serve it  together with a warm brioche and  a side of fig compote (more expense.) It is a luxury you must pay for, and the House price of 60 lei per small sliced portion was absolutely correct.
I sadly had to pass on their 'pumpkin cream soup, crispy stick of candied chicken, mushrooms and fresh truffles' and, in my mind, I marveled at anticipating how the dish would be plated up for presentation. OK, next time I will try it. So away I went to a superb 'slow cooked shoulder of lamb' at 110 lei. Served and plated artistically, it was perfectly tender and accompanied by an unnecessary (but most welcome) slice of pink lamb chop. My vegetable was pureed and predictably shaped as a quenelle and there was a smear of harissa sauce, which the chef must spice up. And on this point, I raise my only criticism.
As with virtually all Romanian commercial kitchens, there rests the inexcusable habit of refusing to season the food, or, if they do so, the result is indiscernible.  And the House was as guilty as all the other suspects. But it did not destroy the dish, it just saddened it.
Off we went with Blondie, choosing a  'pork belly with crispy veg and a ravigot sauce' at 75 lei.  Note well that 'pork belly' is a stupid,  almost imbecile, misnomer invented in the USA. It has nothing to do with a belly, a.k.a stomach, rather it is a cut from the lower rib side of the pig. You buy it (I get it at a bargain price in Obor market) with a thick skin covering layers of fat (which can melt away when cooking) covering layers of meat. Hmmmm I thought. How can the chef 'sex up' such a dish?
But he did. It came beautifully sculptured with all the fat and skin removed in a light ravigot sauce which complimented (rather than competing with) the pork. A ravigot is a velutee which is simple to make and I will tell you how, if you email me.
I have never subscribed to the orthodox opinion that overseas French chophouses must be staffed from top to bottom with French personnel. They are as perfectly good as in France, if they have been trained in this fabulous Gallic art by French maestros. And the House has been so.
I really hope the House thrives, but it is a sad truth that the monied classes here have French cuisine within their reach. However, they mainly sport shaved heads, tattoos and drive morbidly obese cars, so such beauty is not a priority within their superficial lives. Let us place our hope in their children's generation evolving with a renaissance set of values, which includes fine dining as an essential part of life. Only then will Bucharest be recognized as a true European city.
A review by Michael Barclay – Mab.media@dnt.ro