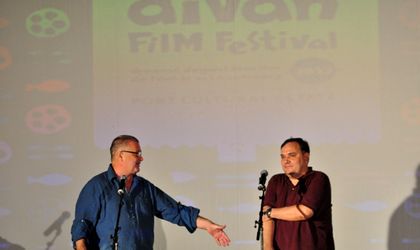 Warning
: Invalid argument supplied for foreach() in
/var/www/html/business-review/wp-content/themes/business-review/strawberry/setup/gallery.php
on line
71
Filmmakers from Russia, Slovenia, Serbia, Montenegro, Macedonia, Albania, Turkey, Cyprus and Romania features  47 films between August 19 to August 26 in The Divan Film Festival on the Danube shore in the port town Cetate, Dolj.
For this third edition of the festival, several special guess will attend the event: the Romanian directors Nae Caranfil and Mihai Sofronea, Romanian film critic Mihai Fulger, as well as Serghei Lavrientev, Russian film critic, Maksim Pavlov, Deputy Director of Russian Film Museum from Moscow, Ivan Forgacs, Hungarian film critic and director Ivana Mladenovic, who will present the "Turn off the Lights" documentary.
Divan of Tasters, Film and Culinary Art festival is organized by the Foundation for Poetry "Mircea Dinescu", supported by the National Center of Cinematography, Dolj County Council and City Hall Dolj. Below is the program of the "Divan Film Festival":
Monday, August 20
21:00 – Tigrul alb/ Belîi tigr/ White Tiger (2012,Russia), Director: Karen Şahnazarov – international premiere
23:00 – jazz concert Luiza Zan Trio
Tuesday, August 21
10:00 – Turn off the Lights (2012,Romania), Director: Ivana Mladenović
11:30 – shortsup movies
16:00 – Pavilionul nr. 6/ Paviljon VI/ Ward No. 6 (1978,Yugoslavia), Director: Lucian Pintilie
21:00 – Toată lumea din familia noastră/ Everybody in Our Family (2012, Romania-Holland), Director: Radu Jude
Wednesday, August 22
10:00 – International Symposium "Escape from the Balkans" (I)
16:00 – Punk-ul n-a murit/ Pankot ne e mrtov/ Punk's Not Dead (2011,Macedonia), Director: Vladimir Blaževski
19:30 – Culinary show Uti Băcivarov (Bulgaria)
21:00 – Adăpost/ Podslon/ Shelter (2010,Bulgaria), Director: Dragomir Şolev
Thursday, August 23
11:00 – Robinson Crusoe/ Il racconto della giungla (1974, Romania- Italia), Director: Victor Antonescu
21:00 – Fluturoaica/ Leptirica/ The She-Butterfly (1973,Yugoslavia), Director: Djordje Kadicević
22:30 – concert Marius Mihalache Band
Friday, August 24
10:00 – International Symposium "Escape from the Balkans" (II)
11:00 – Berin Tuzlić cartoons (Bosnia Herzegovina)
16:00 – Viu/ Gjallë/ Alive! (2009, Albania- Austria- France), Director: Artan Minarolli
21:00 – Frumuseţea păcatului/ Lepota poroka/ The Beauty of Sin (1988,Yugoslavia), Director: Živko Nikolic
Saturday, August 25
11:00 – shortsup movies
16:00 – Fish n` Chips (2011, Cyprus- Greece), Director: Elias Demetriou
21:00 – Vampirul local/ Lokalni vampir/ The Local Vampire (2011,Montenegro), Director: Branko Baletić
23:00 – Mambo Siria concert / official closing ceremony
More details of the event can be found on the official site, information available only  in Romanian.
Oana Vasiliu