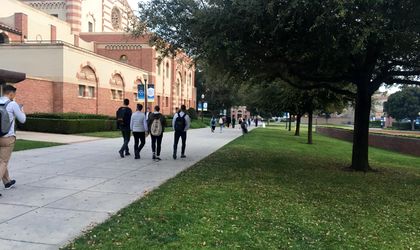 Friday has the reputation of something of a lazy day for most of us, wrapping up uncompleted tasks and daydreaming about the weekend. Not for our six Romanians traveling across the USA in their epic Startup Odyssey. For them, learning never stops, so Friday meant a day-long conference at the University of California, Los Angeles (UCLA) campus, on subjects such as marketing, retail, eCommerce, and sustainability.
Before leaving for the UCLA campus, the gang started the day early, with Octavian Sicoe winning the unofficial "first awake" award, getting up at 5 AM. It's true, he had an overdue school assignment to finish, but who are we to judge?
Fast-forwarding to UCLA, Cosmin Scripcariu recognizes he was amazed by the huge campus.
"The average tuition cost for one year is around USD 50,000, but I find it interesting that students here see it as an investment, not an expense," Cosmin says.

"Their universities are way different than ours. The campus feels like a proper city, with lots of buildings and a lot of places to hang out. They even have a Starbucks in their campus at UCLA. I realized that they have a different understanding of being a student. For them it's a real lifestyle, they live in the campus, they learn in the campus, they have fun, they do sport, they do shopping." Adds Catalin Petrisor.
After walking up and down the campus for almost an hour, the conference was about to start, so our six Romanians found their way to the event's location and took their seats in the front rows, eager for another day of learning the American business culture.
"There is no business to be done on a dead planet. Today I chose to do something different and instead of attending the marketing panel (my passion and something that I am comfortable with), I chose to go to the sustainability one in order to broaden my perspective upon the world. It was a great choice because I got a whole new perspective on what sustainability means in America, understand the new trends and also spot some business opportunities." Says Octavian Sicoe, who wanted to try out something different for the day and chose a subject he is less familiar with.
The retail panel also had valuable lessons, with Dan Condurateanu drawing three valuable lessons:
Figure out how my brand is relevant to my customers. The brand is the one that saves my business in the long run.
Be comfortable being uncomfortable was a recurrent mantra from all the entrepreneurs we met today.
Opportunities can be found even in the less appealing areas of the supply chain of eCommerce, as marketing became very crowded.
In the marketing panel, Catalin also learned an important lesson he had previously overlooked: the value of storytelling.
"We've been to a conference at UCLA where almost every speaker told us that people tend to choose experiences over the quality of the product. This is very bonded to the fact that storytelling should be in every domain as much as possible. Us, as human beings, understand better something if it's told to us as a story and this is why we tend to value the storytelling."
Cosmin also had the opportunity to sneak a peek into some industry insights:
"How do you address clients that don't know they need a certain product? You look at what inspires them, what drives them forward, to understand the steps they take in order to buy something. The everyday journey of a client, if you know it you can sell him almost everything."
Alex Burghelia, retells his own main learnings:
– How malls measure traffic and data in offline stores and as well as deepened the knowledge about how important it is to collect, interpret and use data about the customers' behavior in the online environment.
– The level of ads personalization becomes individualized on the customers' shopping behavior and it will be not only on customer segments with similarities (e.g. in mail marketing, different landing page display)
– I also found out about a trend in e-commerce. Google Shopping, which is a marketplace for other resellers (similar to Amazon / or eMag Marketplace) is a thing in the USA. In Romania, we only have Google Shopping Ads.
– Today I tested Amazon Prime as well, as I want to discover what's the customer experience. I bought a pre-owned "Like new" pair of earbuds and can't wait for its delivery. I plan to test a few other e-commerce websites as well.
"No data is better than BAD data." Both Cosmin and Octavian noted. "It is related to the fact that we as entrepreneurs we make decisions based on the poor data that we have in the beginning." Octavian says. "Also, entrepreneurs tend to look at data only to validate their own preconceptions." Adds Cosmin.
The panels went well on into the evening, and our 6 Romanians enthusiastically stayed through the whole thing. Tired, but ecstatic by the intense learning day, they returned to their lodgings, where a final lesson was waiting for them, somehow related to the retail conference they had just attended.
"In the evening, we had two parcels at the door delivered by Amazon and the most interesting fact was that the courier delivered to the wrong address. They weren't ours, but of a nearby neighbor. What's strange and different: the Amazon courier left the pre-paid parcels IN FRONT of THE DOOR, where anybody could have stolen them from. In Romania, this is and will be unheard of for, even for a long time from now. No phone number was written on the parcel, so we'll try to find the owner over the weekend." Alex concludes the day.