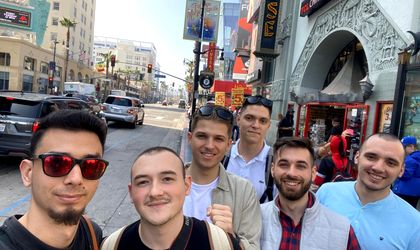 Now that we've met our protagonists in our previous article, it's time for the #RoStartupOdyssey to go forward. Flying on different planes, the Romanian Six descended on the famed City of Angels, or La-La Land, a nickname made popular by the 2016 film of the same name, meeting up at their rendezvous point – the Los Angeles International Airport, or LAX as its commonly referred to. The 16-hour flights took their toll, so the first contact with California meant another tiring trip from LAX to their hotel and a well-deserved rest.
Catalin Petrisor and Octavian Sicoe were the first to start the new day, followed by the others, all eager to find out what Los Angeles had in store for them. Today was all about familiarizing with L.A., its traffic and the huge distances between various destinations.
First stops, the touristy Walk of Fame and Venice Beach.
"Billboards everywhere. They take advantage of every empty space, from parking lots to any hillside. This leads to high competition for customer attention. But I have to say, I saw some cool and out of the box billboard designs that really stand out." Octavian describes the first thing he noticed about L.A.
Like any L.A. newcomers, souvenir shops drew them in like a magnet (the kind you put on your refrigerator door). But unlike the souvenir shops in Europe, bland and quiet, the Los Angeles ones looked more like a game show: lights, singing, impromptu stand-up comedy, wax figures, the show business is ever-present in L.A.
"I saw a souvenir shop that felt like a show. They had an MC with a microphone attracting customers by shouting, telling jokes, talking to customers. Also, they had a strange offer: if you put the products in a shopping cart, everything you buy is half price. It makes no sense but it's funny." Catalin describes the experience.
"There are 2 souvenir shops on the Walk of Fame, that have different strategies. La la Land is a huge shop that attracts people by placing big wax figurines at doors while the 10$ Boutique hired 3 people to invite tourists inside their small shop. The 3 employees sing, make jokes and carry huge posters to convince you to enter. They also have somebody that interacts with customers at the door- a comedian. The second competitor is more focused on interaction with the customer while the first one has more products, free restrooms, and a better location. The learning is that if you want to compete with a bigger company you have to be creative in your customer approach and create an experience for them." Adds Iulian Puiu.
But not everything went smooth for the group. For Cosmin Scripcariu the day started with a 100$ parking fine. Only a couple of hours later, a second parking fine near Venice Beach left their travel budget a couple of hundred dollars lighter.
"We already took two parking fines. The lesson is that the municipality has a big impact on the behavior of the citizens. Unlike Bucharest, they strictly enforce the law." Octavian shows his willingness to learn something from every experience, more or less fortunate.
Leaving the parking fines behind, Cosmin Scripcariu was impressed by how Angelenos capitalize their time. "Every minute counts," he says, "every client is important, any streamlining is welcomed." After all, Americans do say "time is money."
"If you market something as being cool and people start to consider it as being cool, you will have traction to people who like cool and popular stuff. I came to this conclusion by thinking why is Los Angeles so popular and I realized that it doesn't have anything special about it, only the fact that it's promoted as a cool city by media, music, Hollywood movies, TV series, TV shows and many others channels. For me, Los Angeles feels like it's a very good remarketing campaign." Catalin Petrisor concludes the lessons of the first day from a marketing perspective.