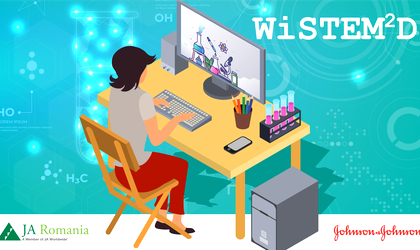 The second edition of the WiSTEM²D (Women in Science, Technology, Engineering, Mathematics, Manufacturing, and Design) educational project successfully responds to the challenge of #socialdistancing and offers students and teachers the opportunity to access electronic educational resources to learn and teach in an online environment.
By Romanita Oprea
The project, carried out in Romania by Junior Achievement with the support of Johnson & Johnson, is aimed at fostering young people's interest in #STEM²D subjects and careers.
The project materials, designed in such a way as to allow the creation of educational contexts regardless of the means of communication used, encourage students to stay connected to education and use practical research, collaboration and project development activities to discover different phenomena or solve certain problems in society with the help of science, technology, engineering and arts.
Led by education experts and STEM²D professionals, the project activities apply an interdisciplinary, integrated and student-centered approach, which implies the use of solid pedagogical practices. The principles underlying their elaboration transform the learning process into a more engaging, constructive and more efficient experience while stimulating the students' willingness to investigate and develop their logical reasoning, creative thinking, problem-solving and collaboration abilities. More details available at https://jar.ro/virtual-wistem2d.
"The WiSTEM²D project activities complement my own approach during physics classes: encouraging students to discover the skills, interests and passions that might justify a pursuit of a career in science. I believe that in sharing their professional experience the volunteers had a huge impact and were an inspiration for the children. The unique experiences that take place in an environment much more relaxing than the time restrained classroom setting, the carefully selected experimental resources and the remarkable people they get to meet (…) are all very inspirational for the children. The project has shown us that science… befits both girls and boys!" – said Maria Neicu, teacher at Mircea cel Bătrân National College in Constanţa.
Compared to the previous edition, when more than 2,000 students from 14 localities completed their classroom STEM activities with the support of over 50 teachers and 19 Johnson & Johnson volunteers, this year the project will reach over 5,500 students from almost 100 urban and rural localities.
Another novelty of this edition is the fact that the activities will take place in an online environment and will be led both by teachers and Johnson & Johnson volunteers. In one of the virtual lessons, the volunteers will talk about present issues, such as the emergence of the new type of coronavirus, the changes it brings to society, how we need to act and how researchers around the world try to discover a COVID-19 prevention vaccine and treatment scheme.