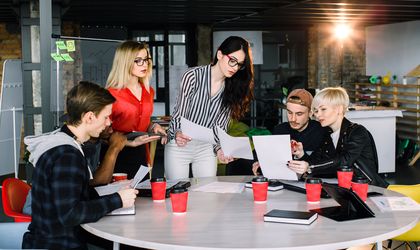 Less than a year after it was launched in Romania in September 2019, Codecool programming school is training 100 students, with the first group of graduates to complete the courses at the end of summer. Romania still faces an annual deficit of over 15,000 IT specialists, according to a study conducted last year by Codecool in partnership with Brainspotting. With the economic changes that have taken place this year, the current deficit will only grow due to unemployment rising in the labor market, so alternative programming courses are becoming a solution for people who are looking for a new career perspective.
In June, the school was authorized by the Ministry of Labor and Social Justice and the Ministry of National Education, thus becoming an option for those who want to benefit from an official accreditation once courses are completed.
"We are glad to have reached 100 students, less than a year after Codecool's launch. The fact that registrations continued during these last months that were quite difficult and uncertain, only confirms that our model is interesting and useful for those who want to start a career in IT. The demand for specialists is still very high, and now that we have obtained the accreditation from the Ministry of Labor and Social Justice, but also of the Ministry of Education, we believe that we represent more than ever a viable and effective alternative to traditional courses. Anyone who wants a career in programming is welcome at Codecool, where the only prerequisites are commitment and motivation, not experience", says Claudia Tamași, Country Manager Codecool Romania
Following a model that was already successfully tested in Hungary and Poland, through which the school guarantees a job with one of the partner companies at the end of the courses, but also the possibility to pay for the classes only after you are employed, Codecool meets the demand for specialists through the Full Stack course Developer, that can be completed in 12 months. At the same time, the current situation in which many of those affected by the economic effects of the pandemic are looking for a quick solution for professional reconversion, has led Codecool to launch a new course, for Front End Developer. The course can be finished in just 4 months and gives those interested in starting a career in IT the opportunity to start working in the fall.