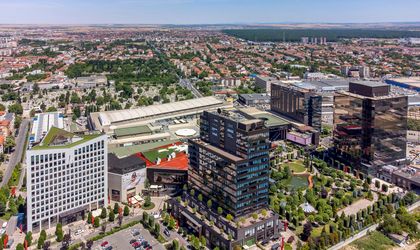 Over the past two years, major office developers have been adapting to the shifting demands of tenant companies and are now investing in green technologies and new workspace designs in a bid to support employees' return to the office. With a mix of remote and on-site work becoming mainstream, office developers say that flexibility is the way forward for the office industry.
By Ovidiu Posirca
During pandemic times, amid a swift transition to remote work, employees discovered the importance of work-life balance and realised how much time they would waste commuting or being stuck in traffic.
"The last 2 years have made people realise that there are ways to work efficiently and have a balanced life at the same time. On the other hand, they want to come back for a few days per week to the work community, to an innovation-friendly and teamwork environment—which are catalysts for a good professional path," says Florina Grosu, associate in the office agency at Crosspoint Real Estate.
Flexibility is here to stay
Many companies are investing in making the office experience as attractive as possible for their employees.
"The current period is still one of defining needs for many employers. Companies have tested several options aimed at optimising the impact of office space on productivity and quality of life in general. As we have said on other occasions, we believe it is essential for office building owners to offer tenants flexibility and try to understand the specific needs of each individual partner," says Fulga Dinu, country manager for operations at IMMOFINANZ Romania.
She adds that the company's myhive concept is designed to offer high-quality office space combined with all-inclusive service, infrastructure, and community for tenants of various sizes.
This year, IMMOFINANZ is investing in the transformation of the Victoria Park office into myhive Victoria Park and preparing to start the refurbishment of Bucharest Financial Plaza.
Market players say the local office scene has seen a sharp recovery and though activity levels are far from the pre-pandemic highs, future demand shows no signs of slowing down. At the same time, the "remote work" scare has not materialised for developers, according to representatives of real estate consultancy Colliers.
The market outlook shows limited deliveries on the horizon for the next 3 years. Around 130,000 sqm of new modern office spaces per year are expected in Bucharest between 2022 and 2024. On this backdrop, Colliers representatives suggest that we might be returning to a tenant market quite soon for certain submarkets or building categories.
"The number of people working from the office doubled when all restrictions were lifted in March, and we expect attendance to exceed 60 percent starting this fall," says Laurentiu Manea, office buildings manager at Iulius Town Timisoara.
Iulius's office portfolio covers 13 buildings with a total area upwards of 152,000 sqm, accommodating more than 80 company head offices and 15,000-plus employees. Their projects are located in Iasi, Timisoara, and Cluj-Napoca.
Manea says that companies with R&D centres are already seeing office attendance rates above 70 percent. This year, Iulius will complete Palas Campus, a new mixed-use scheme in Iasi comprising 54,000 sqm of offices and 6,000 sqm of retail premises. The anchor tenant for the office component is e-commerce giant Amazon.
Manea suggests that the hybrid system only works if the workspace is transformed to better cater to more flexible environments with open and collaborative spaces. This adds a 30-40 percent increase in sqm per employee.
"In the end, it all evens out because the gross leasable area needed is largely similar to that of previous models," he adds.
By the end of next year, the office stock in regional cities is set to expand by 110,600 sqm, according to data from real estate consultancy JLL.
Maria Tudorica, commercial real estate manager at Genesis Property, says the emphasis has shifted from property to people, and the new workplace must reflect this trend. Currently, the developer is investing EUR 50 million in transforming the Novo Park office project in north Bucharest into YUNITY Park. The new complex will be completed in the first quarter of 2023 and will include co-living and co-working spaces and an expanded green area of 17,000 sqm.
"The Class A office market, in which we operate, will witness a positive dynamic in the years to come. Companies are under more pressure than ever to provide employees with modern, healthy offices with access to a variety of spaces for work and socialisation," Tudorica explains.
Developers say that employees belonging to all generations are looking for physical spaces that offer attractive design, natural light, greenery, comfortable furnishings for different work styles, the latest technology, as well as amenities like restaurants, cafes, gyms, and wellness features.
"The integration of the hybrid dynamic into the working models of most service companies will eventually lead to the stabilisation of the office market in the coming period, with a better adaptation to the new working environment," says Anamaria Cretu, leasing & asset manager in the commercial development division of Skanska CEE. In Bucharest, many companies are looking to relocate downtown as this can also convince more employees to return to the office.
"Our bet is that this trend of working (and living) downtown will perpetuate throughout 2023 and beyond," says Yitzhak Hagag, co-founder and shareholder of Hagag Development Europe. In his opinion, regardless of the way companies will choose to work—hybrid or full-time at the office—the need for office spaces will always be there.
Elsewhere, Antoniu Panait, managing director at Vastint Romania, says that 2022 started on a positive note compared to last year regarding the office leasing activity.
"There is still a need and interest of companies in renting office spaces, for their future usage. Whether they will continue to choose working hybrid, come back 100 percent into the office, or any other solution suitable for their profile, we are ready to accommodate any of these choices," says Panait.
Vastint is continuing its office developments and plans to start the Phase 2 of Timpuri Noi Square, which will add another 50,000 sqm of office spaces in Bucharest. Speaking about sustainable developments, Panait points out Vastint is using efficient elevators, facades that are not fully glassed and a supply of renewable energy for its projects.
ESG playing bigger role in office development
Development based on environmental, social, and governance (ESG) criteria is becoming more important with each day that passes on the commercial real estate market. Offices meeting these principles will gain a competitive edge in finding quality tenants or potential buyers. Manea of Iulius Town Timisoara says that ESG criteria drive developers to evaluate any future investment more responsibly in terms of its relationship with nature and cultivating a socially healthy environment, but also by paying more attention to the actual organisational structure. For Palas Campus, Iulius got a green loan of EUR 72 million and it will certify the project for using 20 percent less energy and water than a standard building.
Ionut Pavel, office buildings manager at Palas Iasi, adds that Iulius's regeneration projects have a concrete impact on the revival of cities, their economies, and the development of communities.
Elsewhere, IMMOFINANZ aims to achieve net zero emissions by 2040 along the entire value chain. At Bucharest Financial Plaza, the developer will include a large urban public garden and green mobility options.
"Our sustainability focus influences how we plan and design our future developments too, with energy optimisation, increased use of photovoltaic systems, and other areas of innovation in mind," Dinu says.
Achieving net-zero carbon emissions by 2040 is also the objective of Genesis Property. The company's YUNITY Park will integrate sustainability principles related to the circular economy, investment in renewable energy production, and sustainable building management.