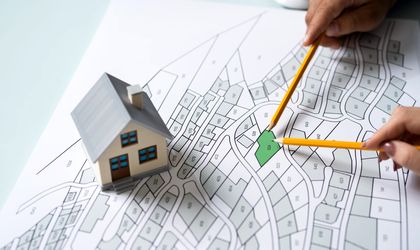 Commercial real estate companies are playing a bigger role in the land market this year as residential developers are taking a step back to gauge the impact of city permitting delays and higher mortgage rates for homebuyers.
By Ovidiu Posirca
Across the country, retail, industrial, office, residential, and photovoltaic developments are playing key roles in driving demand for land.
All in all, based on the available information, the estimate for transaction volumes in 2023 reaches EUR 250 million. This takes into account the first half of the year and factors in the negative contribution of the residential sector, according to Gabriela Vlad, senior land consultant at CBRE Romania.
"The retail sector is leading demand, encompassing Bucharest, large cities, and secondary/tertiary cities. Developers in the industrial sector are keen on securing locations near major infrastructure works, such as the A0 and A7 highways. Moreover, there is growing interest from Asian companies in opening production facilities in Central and Eastern Europe (CEE), with Romania among the countries of interest," Vlad explains.
At the same time, the office segment is seeing significant demand, particularly in Bucharest, but the availability of suitable plots for office development is limited due to zoning restrictions.
For PV projects, the impact is expected to be more evident starting from 2024 as the selection process for suitable land is lengthier.
Buyers Taking a "Wait and See" Approach in Bucharest
Demand in the residential space had started to fall since the second half of 2022, but several developers are still showing interest in acquiring residential lands, anticipating more attractive prices.
In the retail segment, food retailers are among the main buyers as they continue to look for good land plots for the development of hypermarkets and supermarkets. However, consultants say that this segment is also registering lower demand. Liviu Margineanu, land agency director at Cushman & Wakefield Echinox, points out that the interest in retail projects is much lower than it was in previous years, given that large retail chains have slowed down the pace of expanding their portfolio.
"This slowdown is also reflected in the declining activity of the retail park development segment, which relies on these food retail chains as anchors. However, land near existing projects or in prime areas such as city centres, crowded areas or areas not yet covered by modern real estate projects remain most attractive for buyers," Margineanu adds.
In Bucharest, the slowdown of development due to permitting delays is also reflected on the land market. Interestingly, the developers that were planning projects in Bucharest have not moved to Ilfov County, where the permitting process is faster. Instead, according to a report by Crosspoint Real Estate, they are waiting for the situation in Bucharest to become clearer. The consulting firm points out that activity on the land market in Ilfov was relatively stagnant in 2022, with a slight drop of almost 2% y/y. In Bucharest, the number of land transactions rose by 27.5 percent during 2022, while in the rest of the country it fell by 15% versus 2021.
But the drop in demand became obvious in Q1 2023, when land transactions recorded a decline of 30% y/y in Bucharest and 44.6% in Ilfov.
For Bucharest at least, land consultants suggest that there should be more land transactions once the property sector gets a stable framework for the permitting of new developments.