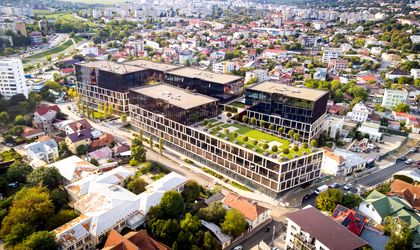 HELLA, a top automotive company operating under the umbrella brand FORVIA, is set to open an engineering and development project in the Palas Campus office project developed by IULIUS in downtown Iași. HELLA will occupy 1,300 sqm in the upcoming business hub in what will be the largest office building as surface area in Romania.
Palas Campus Iași, an investment upwards of 120 million Euro by IULIUS Company, is scheduled to open in the first quarter of next year and will include a research and development center of HELLA Company. An automotive industry and spare parts supplier for more than 100 years now, HELLA develops and produces electronic components and lighting systems for major car manufacturers.
Located in the vicinity of the Palas Iași mixed-use complex, Palas Campus is set to become the largest office building in Romania in terms of surface area, with a leasable area of 60,000 sqm. The office complex is fully leased by major international companies in the IT&C, automotive, banking, and health&pharma industry, making it a competitive business hub at a national level.
The HELLA center will span on 1,300 sqm and will accommodate a team of approximately 100 engineers. The specialists in the new location will focus on complex products and innovative technologies that develop autonomous (self-driving) vehicles.
"By means of the Palas Campus premium office project, IULIUS seeks to support the development plans of major companies. The presence of HELLA in our office complex in downtown Iași, along with the other major companies, consolidates a technological hub set to have nationwide relevance, adding value to the city and boosting its attractiveness," said Ionuț Pavel, Office Buildings Manager Palas Iași & Palas Campus.
 —
"HELLA found in Iași a strong community of qualified specialists trained in the local universities. We will be working with advanced technologies on innovative radar product designs that help develop the autonomous driving megatrend. In doing so, we want to provide our team with working conditions measuring up to the highest standards. In Palas Campus we have access to modern infrastructure on par with that provided in other Western cities where we operate, and we can thus offer employees an attractive and inspiring work environment in which they can design innovative projects," stated Marius Adam, the newly appointed Manager of the new HELLA Technical Center Iași.
For the research and development center in Iași, HELLA Company is looking for specialists in System Engineering, Software Development, Software Testing, and System Testing.