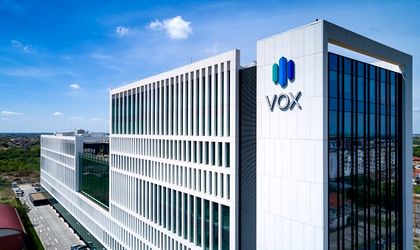 The Vox Technology Park office project in Timisoara was awarded the BREEAM final green certificate with an 'Excellent' rating and a total score of 86.7 percent, the highest achieved by a real estate project in Romania and the only one with a score of over 85 percent.
Scoring is a way of differentiating the sustainability of real estate projects, which translates into a much lower impact on the environment and lower operating costs, including lower costs for occupants – be they buyers, as in the case of a residential project, or companies, as in the case of an office building. In addition, developing a sustainable project also leads to creating a healthy and friendly work environment for employees, conducive to professional and personal development.
"The final sustainable certification attests that we have not only achieved a beautiful model and an attractive story but delivered the most modern real estate project in Romania and implicitly from Timisoara, where the competition for employees is fierce. The benefits for companies and employees are decisive and such a high level of performance translates into lower monthly costs for companies and happier employees," said Vlad Vela, general manager of Vox Property Group.
Vox Technology Park was completed in early 2018, has a leasable area of ​​26,600 square meters and was developed by Vox Property Group following an investment of EUR 30 million.
"The impact of obtaining a BREEAM certification decreases property taxes by 15 percent, which results in a reduction in the total service charge per square meter rented. Indirectly, meeting BREEAM standards also ensures very high energy efficiency, which translates to low running costs for the building and utilities in common spaces, resulting in additional benefits for tenant companies that will pay lower service charges," explained Daniela Ionescu, senior property manager of Colliers International Romania, the company that provides property management for the project.
The project offers unique features, such as biometric identification through an application that generates a QR code key after facial recognition or fingerprint recognition, as well as competitive advantages for employees such as bicycle spaces and showers, a food court and fitness, commercial and service spaces.
"I am glad that the VOX Property Group has embraced the challenge of building a high-performance building whose construction has the most positive impact on the city and the environment and offers tenants a more comfortable and healthier environment. It was a long and demanding but very motivating collaboration, always having the interest of the entire team involved in the project (design, project management, execution and developer) to understand the requirements of the BREEAM standard, to search for and implement the best solutions for the VOX building Technology Park, setting a new standard for the office building market in Timisoara and across the country," said Adrian Pop, BREEAM auditor, ADP green building.
Vox Property Group has recently started the construction of the Vox Vertical Village residential project, located near the previously completed office project. The Vox Vertical Village is the first "vertical city" concept developed locally, to be delivered to the market at the end of 2019, following an investment of EUR 14 million. Like the nearby office project, Vox Vertical Village will be a green project, to be developed according to BREEAM Excellent standards, a premiere on the residential market outside of Bucharest.
Another defining feature for Vox Vertical Village will be vegetation, as over 1,000 trees and shrubs will be located on both private terraces and indoor common areas. The project will make available to prospective tenants a host of facilities, including a generous atrium with a high degree of natural illumination that will increase community interaction, an outdoor pool, a reception area, a cinema and a full fitness room equipped. The general contractor of the project is PORR Construct, one of the largest construction companies active in Romania.