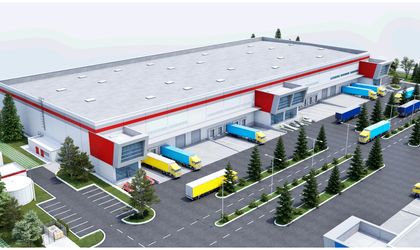 The company listed on the Tel Aviv Stock Exchange has under development 100,000 sqm of prime logistics space, in strategic locations, and plans to continue its fast-paced growth across Romania.
Villar Group will deliver at the beginning of the next year the first 10,000 sqm logistics unit within the project located in Dragomirești-Vale, km 13, on the A1 Highway, in the close proximity to Bucharest's ring road where the company acquired a land plot of 160,000 sqm, ideal for Build-to-Suit development opportunities, allowing a total potential for construction of approx. 80,000 sqm of modern warehouse area. The project offers quick access, thanks to its advantageous positioning, the city center and Otopeni Airport.
Matan Tisser – Villar Group's CEO, says:
"In Israel we already have a leading position as developers of logistics and industrial parks. There we own and manage a portfolio of over 500,000 sqm, with an occupancy rate of 99%, and we have long standing partnerships with clients such as Geberit, Stanley, Cosentino, Mania Jeans etc. For us, Romania is a growing market, with a lot of potential to accommodate future-proofed logistics hubs, positioned in strategic infrastructure regions. That is precisely why we chose the location near Bucharest, with the best access to the future city's ring road A0, and connections to the main highways A1, A3 and the National Road DN 1 for our next logistics project. Villar Group's logistics projects in Romania will benefit from state-of-the-art facilities, which will allow our tenants efficient operations, in a highly technological and sustainable environment. In addition to Bucharest, we are also looking carefully into cities such as Ploiești and Satu Mare to accommodate our future logistic projects, considering that this real estate segment is constantly flourishing".
With direct access to the city center, the new park in Dragomirești Vale is a suitable location for last-mile distribution operators, e-commerce and retail industries.
As part of the company's commitment to sustainability, and the generation of electricity from renewable sources, Villar Group will install electric vehicle charging stations and LED lighting, including in the outdoor areas. Moreover, the company is planning to provide photovoltaic panel installation, dimensioned as per their consumption needs. The new logistics project is already under evaluation for obtaining a green building certification.
Villar Group previously developed another logistics project near Bucharest, in Popești-Leordeni comprising 16,000 sqm, that will be extended starting next year with a new addition of 15,000 sqm.
"The pandemic context has been an important vector of growth in the demand for logistics spaces in the last 2 years, but as market conditions normalize, we continue to observe a stable need and healthy growth of this segment. That is precisely why we develop with a long-term vision, modern projects that can successfully accommodate the needs of our tenants 15-20 years from now. The projects developed by us will be oriented towards energy efficiency, the optimal use of spaces both horizontally and vertically. We continue to expand our activity in Romania, both through land acquisition, and residential & logistics developments." adds Matan Tisser, CEO.
The logistic spaces developed by Villar Group include everything for the needs of a potential client: warehouse areas, mezzanines and modern offices. The flexible 16 x 32 grid was designed to easily respond to any logistics operations, covering requests from a wide range of business activities, but also being able to support the growing space needs as the companies thrive within Villar's business ecosystems.
Villar's warehouses are designed with a storage clear height of 12,1 meters, which offers their clients significantly larger storage volume, as well as increasing ventilation inside the area.