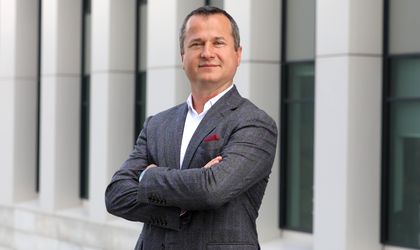 Antoniu Panait, Managing Director at real estate developer Vastint, tells Business Review about the company's plans on the office segment and how they will create even better conditions for people working in its buildings.
By Anda Sebesi
Has the pandemic period impacted your future development plans in Bucharest?
The global pandemic that started over a year ago has had an impact on the entire global economy and on every single industry, generating issues in terms of planning and executing any type of project. We have faced the same types of challenges as everyone else as a result of the restrictions. Things are nevertheless moving forward, albeit at slower pace than we had anticipated. We are confident that the situation will soon improve and that this whole period and its effects will be overcome.
Considering our long-term commitment regarding both ongoing and future projects, our plans in Bucharest remain on track, progressing at a normal pace, and our general technical specifications (healthy air conditioning, 100 percent fresh air supply, openable windows) are proving even more fitting now considering tenants' needs and expectations.
What does your development pipeline look like for 2021 and 2022?
We aim to continue with all the projects in our pipeline, which are currently in different stages of development. All future decisions will depend on market conditions, demand levels, and the feasibility of each project.
The residential sector has experienced significant growth over the past year in terms of both investments and demand. How does this inform Vastint Romania's development plans in the housing segment?
Bucharest has always been a city where housing supply could not match the demand. This past year has only emphasised the need for larger and more comfortable spaces where residents can relax for longer periods of time, and not just for a few hours, because working from home has led to a number of changes in people's habits.
Even though some real estate developers have chosen to redirect their attention towards developing residential projects instead of offices, the more pragmatic ones have maintained their original plans, acknowledging the fact the office market has remained stable and that there will always be demand for offices despite the changes that may occur in some companies' work habits.
Vastint Romania approach remains unchanged, with further/future developments progressing as planned.
We want to meet our future customers' expectations, which have evolved significantly in recent years, so we are taking our time for detailed planning and design in order to come up with ways to make people's lives better.
How will you fund new developments in Bucharest?
Vastint has always been a very stable company in terms of the funds it chooses to invest in the enlargement of its portfolio. All these decisions are taken at group level before the implementation of each major project, taking into account the long-term implications of each option we have on the table.
Is the emerging hybrid work system changing your investment plans for the office sector?
As I mentioned before, the lack of predictability in how companies will decide to function in the future does not detract from the general importance of office spaces. Having in mind the limited amount of information that we currently have regarding the impact of this hybrid working model on the wellbeing of employees and how it will impact productivity in specific industries, it's difficult to forecast future demand and this phenomenon's future effects on the office market. Nevertheless, there will certainly always be a need for office spaces and we will continue to focus on maintaining a high technical standard and overall quality in our projects, because this shall always be important for any office user, and so will the location.