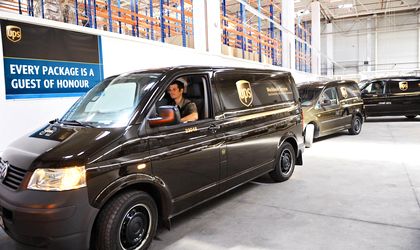 UPS Romania has inaugurated a new operational center at Henri Coanda International Airport. The facility replaces the three previous centers that operated in Bucharest and serves 60 percent of the country. The 2,500-sqm facility consists of a combined air gateway, regional center, freight office, and package sorting and supply chain stocking facility. Its proximity to Otopeni airport allows the inbound volume to be sorted an hour earlier, which is translated into greater efficiency in delivery and pick-up services, says the firm.
UPS has recently been faced with two major problems, both of which are still threatening: the economic crisis and the recent chaos generated by the ash cloud that disrupted European flights in April. "Timing helped us. 2008 prepared Romania very well for the [economic] crisis. In 2009, we were able to see growth in Romania and prospects still remain robust," said Cindy Miller, managing director of UPS South Europe and Asia. UPS acquired the local firm Trans Courier service in 2008.
Regarding the ash cloud, Romaine Seguin, chief operating officer for UPS Europe, the Middle East and Africa, said the firm had applied contingency solutions. Instead of arriving in between one and two days in Europe, packages took three to four days to reach their destination. As Koln airport, UPS Europe's main hub, was closed, it was replaced with Spain's airport and most deliveries were made via overland transportation.
Corina Dumitrescu